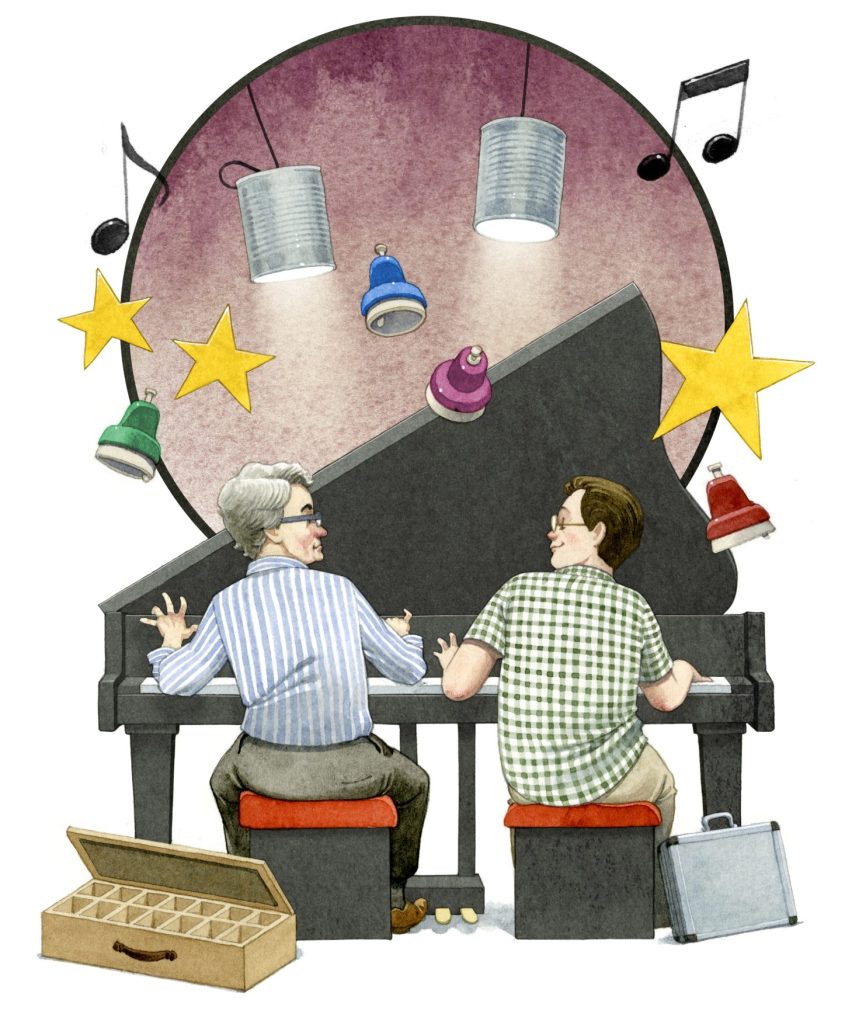 If LÓVA is the project that it is today, it is thanks to the people who, along its history, have promoted this project and their way of teaching. Pedro Sarmiento and Peter Hoyle have been fundamental figures in the development of LÓVA and THE BOXES TO MAKE LÓVA is a project to pay homage to them and continue transmitting their accurate vision, his tireless optimism and passion for improving education. With these boxes we want as an educational community to remember Pedro Sarmiento who has been and always will be the gasoline of LÓVA and Peter Hoyle, who together with Mary Ruth McGinn trained more than 300 teachers in Spain.
The BOXES TO MAKE LÓVA are a travel kit made up of two boxes: a toolbox so that the company builds everything that the imagination allows and a tuned bell box to play with music and compose wonderful melodies. They are unique and special objects.. They serve to make objects and songs and are also a metaphor in themselves. With the right tools, boys and girls can do great things.
This course 2022/23 we will distribute 6 kits of BOXES TO MAKE LOVA a 6 schools with active companies. We will distribute the kits by draw among the applications received, taking into account that there are boxes distributed throughout all the regions in which LÓVA is carried out..
Who can participate?
Schools with LÓVA companies active in the course 2022/23 and release date 2023. The company agrees to receive the boxes during this academic year and that they continue their journey to other companies next academic year.. If your school/institute continues to have a company, the boxes may remain in your educational center.
How to take part?
Send an audio of maximum 3 minutes to lova@teatroreal.es until 15 December at 4:00 p.m.. Audio can be a podcast, I spoke a poem, a song or any other format that you can imagine of the company or companies of the school or institute. Tell us what LÓVA is for you and why you want to receive the boxes. Receiving the Boxes implies the commitment to transfer them to another company the next school year, so it is important that you think about how you will become ambassadors of the boxes next year. Along with the audio you will have to send us the necessary authorizations to publish it on the website and social networks. Discharge here the model.
When will we announce which companies will receive the Boxes??
The 19 from December we will do a raffle and announce which companies will receive the boxes.
How will the boxes arrive??
The boxes will arrive at your center in the second half of January 2023 from the hands of one ambassador or ambassador who will become godmother or godfather of your company for the rest of the course.
A little more about BOXES TO MAKE LÓVA, Pedro Sarmiento and Peter Hoyle:
The idea of ​​creating a toolbox that would demonstrate and honor Peter Hoyle's vision in education was the idea of ​​Pedro Sarmiento.. The box had to be a symbolic element and at the same time useful. Peter Hoyle believed in the ability of boys and girls to create and build and in the importance of making things at school, the basic handling of tools was learned and there was time for manual and artisan work, especially in the process of creating school operas.
the bell box, on the other hand, represents an idea in which Pedro Sarmiento deeply believed. That music is part of each and every one of us and that we can all compose music. With his way of being serious but at the same time jovial, it turned something reserved for "geniuses" into something possible so that anyone felt capable of composing a song. His suitcase of bells, I was always prepared for a girl to create the lead motive perfect for a character, get carried away by an idea or emotion and express it through a composition. His first bell case was also a gift from Peter.
We expect these boxes to have long journeys, tell many stories and serve as instruments to express, tell stories and learn important things.
Thank you Peter and Pedro for continuing to be an inspiration..
This project has the collaboration of the Daniel and Nina Carasso Foundation.