On this page you will find different resources to learn about the professions that make up an opera company. The work of all the teams is necessary to overcome the great collective challenge of producing an original opera. In each booklet you will find the main tools and objectives of each profession and tasks to be able to carry out each job.
Professions Resource Index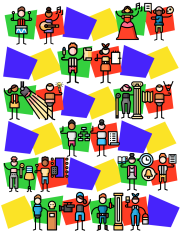 At LÓVA we have developed a collection of booklets that will allow you to get closer to each of the professions that make up an opera company.
If you want a panoramic view of all of them, consult the General introductory guide to the LÓVA professions.
If you are interested in knowing them more closely, you can visit the page "Booklets" in which you will find a specific publication for each of them.
Get to know the professions from the hand of experts!
These interviews belong to a series produced within the framework of the LÓVA + project in which different school opera companies interview professionals from the performing arts to better understand their profession.
Interview with Lía Alves (Illumination design)
Interview with Adriana Tanús (Musical composition)
Interview with José Manuel Zapata (Interpretation)
Interview with Graça Ramos (Press and communication)
Interview with Ana Ramírez (Production)
Interview with Pepa Hernández (Office)
Interview with Silvia de Marta (Scenography)
Interview with Marina Blasco and Esther Martínez (Characterization)
Interview with José María Adame (Costume Design)
Interview with Elvira Lindo (Writing)
Interview with Salva Vicent (Scenography)
Interview with Vicenta Chaparro (Project management)
Interview with Juan Andreu (Office)
And if you feel like diving completely into the exciting world of professions, do not stop exploring all the materials that we leave you here.