BOARD OF TRUSTEES
HONORARY PRESIDENCY
SS.MM. los Reyes de España
PRESIDENT
Gregorio Marañón y Bertrán de Lis
VICEPRESIDENT
Helena Revoredo de Gut
FULL TRUSTEES
Miquel Iceta Llorens
Minister of Culture and Sport
Isabel Díaz Ayuso 
President of the Community of Madrid
José Luis Martínez-Almeida Navasqüés 
Mayor of Madrid
Marta Rivera de la Cruz
Adviser of Culture, Tourism and Sports of the Community of Madrid
Víctor Francos Díaz
General Secretary of Culture of the Ministry of Culture and Sport
María Pérez Sánchez-Laulhé
Assistant Secretary of Culture and Sport
Joan Francesc Marco Conchillo
General Director of INAEM from the Ministry of Culture and Sport
Javier Fernández-Lasquetty Blanc
Adviser of Finance, Economy and Employment of the Community of Madrid
PATRONOS
Luis Abril Pérez
José Antonio Álvarez Álvarez
José María Álvarez-Pallete López
Cristina Álvarez Guil
Ignacio Astarloa Huarte-Mendicoa
Adolfo Autric Amarillo de Sancho
José Bogas Gálvez
Antonio Brufau Niubó
Demetrio Carceller Arce
Rodrigo Echenique Gordillo
Isidro Fainé Casas
Javier Gomá Lanzón
Alicia Gómez-Navarro
María José Gualda Romero
Francisco Ivorra Miralles
Pablo Isla
Andrea Levy Soler
Begoña Lolo
Jaime Montalvo Correa
Eduardo Navarro de Carvalho
Paloma O'shea
Enrique Ossorio Crespo
Florentino Pérez Rodríguez
Rafael Pardo Avellaneda
Ignacio Rodulfo Hazen
Jerónimo Saavedra Acevedo
Elena Salgado Méndez
Jaime Miguel de los Santos González
Mario Vargas Llosa
Rosauro Varo Rodríguez
PATRONOS DE HONOR
Esperanza Aguirre Gil de Biedma
Carmen Calvo Poyato
Alberto Ruíz-Gallardón Jiménez
Mario Vargas Llosa 
GENERAL DIRECTOR
Ignacio García-Belenguer Laita
GENERAL SECRETARY
Carmen Sanabria Pérez
VICE SECRETARIES
Carmen Acedo Grande
Antonio Garde Herce
ARTISTIC DIRECTOR 
Joan Matabosch Grifoll
ASSOCIATE GENERAL DIRECTOR 
Borja Ezcurra
EXECUTIVE COMMISSION 
PRESIDENT
Gregorio Marañón y Bertrán de Lis
VICE PRESIDENT
Helena Revoredo de Gut 
VOCALES NATOS
Joan Francesc Marco Conchillo
Marta Rivera de la Cruz
VOCALES
Eduardo Navarro de Carvalho
Víctor Francos Díaz
Gonzalo Cabrera Martín
GENERAL DIRECTOR
Ignacio García-Belenguer Laita
ARTISTIC DIRECTOR 
Joan Matabosch Grifoll
SECRETARY
María Fernández Sánchez
VICE SECRETARIES
Carmen Acedo Grande
GENERAL DIRECTION
GENERAL DIRECTOR
Ignacio García-Belenguer Laita
 
DEPUTY GENERAL DIRECTOR AND DIRECTOR OF SPONSORSHIP AND PATRONAGE
Borja Ezcurra
 
ARTISTIC DIRECTION
ARTISTIC DIRECTOR
Joan Matabosch Grifoll
DIRECTOR OF ARTISTIC COORDINATION
Konstantin Petrowsky
MUSICAL DIRECTOR
Ivor Bolton
PRINCIPAL GUEST CONDUCTOR
Pablo Heras-Casado
PRINCIPAL GUEST CONDUCTOR
Nicola Luisotti
CHORUS DIRECTOR
Andres Máspero
TECHNICAL DIRECTOR
Carlos Abolafia
PRODUCTION DIRECTOR
Justin Way
 
PRIVATE SPONSORSHIP
DIRECTOR OF PRIVATE SPONSORSHIP
Marisa Vázquez-Shelly
INSTITUTIONAL RELATIONS AND CORPORATE EVENTS
DIRECTOR OF INSTITUTIONAL RELATIONS AND CORPORATE EVENTS
Marta Rollado Ruiz
PRESS AND MEDIA RELATIONS
DIRECTOR OF PRESS AND MEDIA RELATIONS
Concha Barrigós
ADVERTISING, CORPORATE IDENTITY AND DIGITAL PROMOTION
DIRECTOR OF ADVERTISING, CORPORATE IDENTITY AND DIGITAL PROMOTION
Lourdes Sánchez-Ocaña Redondo
CULTURAL PROMOTION AND NEW AUDIENCES
DIRECTOR OF CULTURAL PROMOTION AND NEW AUDIENCES
Fernando Olives Gomila 
PRODUCTION AND AUDIOVISUAL BROADCASTING
DIRECTOR OF PRODUCTION AND AUDIOVISUAL BROADCASTING
Natalia Camacho López
The Board of Advisors is the foundation's advisory body and comprises leading cultural figures.
PRESIDENT
Antonio Muñoz Molina
HONORARY PRESIDENT
Mario Vargas Llosa
MEMBERS
Carlos Aladro (Teatro de La Abadía)
María Bolaños (Museo Nacional de Escultura)
Andrés Carretero Pérez (Museo Arqueológico)
Teresa Catalán Sánchez
Josetxo Cerdán los Arcos (Filmoteca española)
Quintín Correas (Red de Cooperación de las Rutas del Emperador Carlos V)
Marcial Gamboa Pérez-Pardo (Instituto de Historia y Museo Naval)
María Dolores García Gómez, Lola de Ávila
Luis García Montero (Instituto Cervantes)
Alicia Gómez-Navarro (Residencia de Estudiantes)
Rubén Gutiérrez del Castillo (Fundación SGAE)
Mark Howard (British Council)
Eulalia Iglesias (Biblioteca Regional de Madrid)
Montserrat Iglesias
Carmen Iglesias (Real Academia de la Historia)
Miroslawa Kubas-Paradowska (Instituto Polaco de Cultura)
Arnoldo Liberman Stilman
Natalia Menéndez (Teatro Español)
Sophie Muller (ACNUR)
Rafael Pardo Avellaneda (Fundación BBVA)
Pilar Piñón (Instituto Internacional)
Sofía Rodríguez Bernis (Museo de Artes Decorativas)
María Ángeles Salvador Durántez- Museo Arte Contemporáneo Madrid
Julia Sánchez Abeal (Fundación Albéniz – Escuela de Música Reina Sofía)
Ana Santos Aramburo (Biblioteca Nacional)
Stanislav Škoda (Centro Checo)
Guillermo Solana (Museo Nacional Thyssen-Bornemisza)
Manuel Villa-Cellino (Universidad Nebrija)
The Diplomatic Circle was founded in 2014. It includes 12 ambassadors who participate in the activities of the Teatro Real as representatives of the international community: Germany, France, United Kingdom, Japan, China, Italy, Mexico, Belgium, Canada y Colombia.
MEMBERS
Excmo. Sr. Wolfgang Hermann Dold
Ambassador of Germany
Excmo. Sr. Jean-Michel Casa
Ambassador of France
Excmo. Sr. D. Hugh Elliott
Ambassador of The United Kingdom 
Excmo. Sr. D. Kenji Hiramatsu
Ambassador of Japan
Excmo. Sr. D. Wu Haitao
Ambassador of China
Excmo. Sr. D. Riccardo Guariglia
Ambassador of Italy
Excma. Sra. María Carmen Oñate
Embajadora de México
Excmo. Sr. Gerard Cockx
Ambassador of Belgium 
Excma. Sra. Wendy Drukier
Ambassador of Canada 
Excmo. Sr. Luis Guillermo Plata
Ambassador of Colombia
SECRETARY
Marisa Vázquez-Shelly
Director of Private Sponsorship
The International Council is a support body into the structure of the Teatro Real which aims to promote the participation of civil society internationally at the Teatro Real and the dissemination of its artistic project. Among its members are prominent figures who share their functioning of the Teatro Real.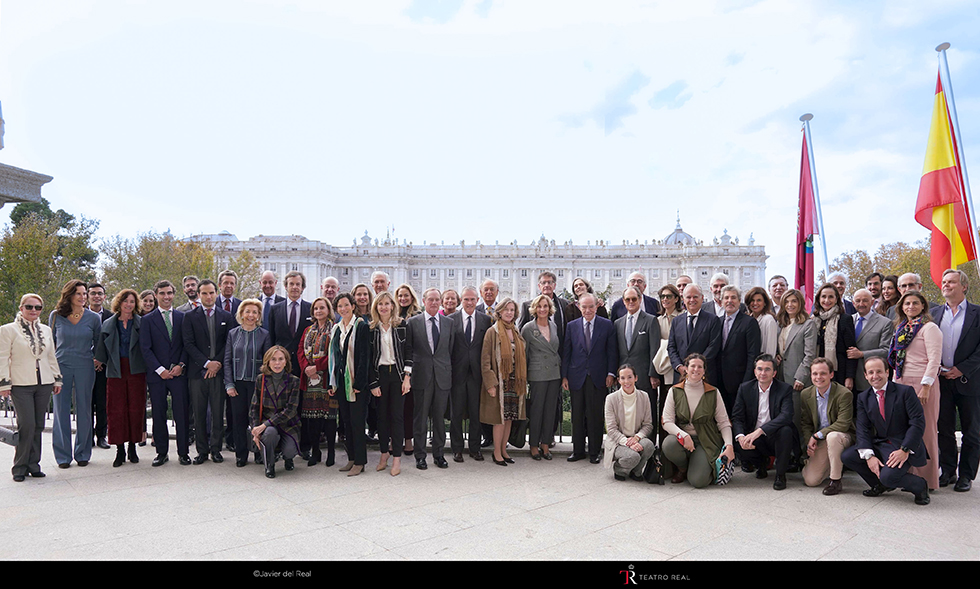 PRESIDENT
Helena Revoredo de Gut
VICEPRESIDENT
Fernando D'Ornellas 
MEMBERS
Claudio Aguirre Pemán
Gonzalo Aguirre González
Marta Álvarez Guil
Carlos Fitz-James Stuart, duque de Alba
Marcos Arbaitman
Karolina Blaberg
Hannah F. Buchan y Duke Buchan III
José Bogas Gálvez
Jerónimo y Stefanie Bremer Villaseñor
Charles Brown
Teresa A. L. Bulgheroni
Valentín Díez Morodo
José Manuel Durão Barroso
Claudio Engel
José Manuel Entrecanales Domecq y María Carrión López de la Garma
José Antonio y Beatrice Esteve
Jon Fernández de Barrena
Hipólito Gerard
Jaime y Raquel Gilinski
José Graña Miró-Quesada
Carlo Grosso
Joaquín Güell
Bárbara Gut Revoredo
Chantal Gut Revoredo
Christian Gut Revoredo
Germán Gut Revoredo
Bruce Horten
Fernando Fitz-James Stuart y Sofía Palazuelo Barroso, duques de Huescar
Rodrigo Lebois Mateos y Almudena Ocejo
Gerard López
Abelardo Morales Purón
Pedro y Mercedes Madero
Marta Marañón Medina
Cristina Marañón Weissenberg
Víctor Matarranz Sanz de Madrid
Pilar Solís-Beaumont, marquesa de Marañón
Xandra Falcó Girod, marquesa de Mirabel
Julia Oetker
Georg Orssich
Paloma O'Shea
Patricia O'Shea
Joseph Oughourlian
Juan Antonio Pérez Simón
Marian Puig y Cucha Cabané
Alejandro F. Reynal y Silke Bayer de Reynal
David Rockefeller Jr. y Susan Rockefeller
Carlos Salinas y Ana Paula Gerard
Isabel Sanchez-Bella Solís
Javier Santiso
Sonia Sarmiento
Paul Saurel
Antonio del Valle
SECRETARY
Marisa Vázquez-Shelly
Director of Private Sponsorship
The members of the Junta de Amigos (Board of Friends) represent various business, culture and social circles. Its mission is to encourage support and participation from the community, so as to build upon and develop activities within the institution and beyond into the cultural life of Spain. The members of the Junta de Amigos enjoy a series of benefits from the Teatro Real. 
PRESIDENT
Jesús María Caínzos Fernández
 
VICE-PRESIDENT
Myriam Lapique de Cortina
 
MEMBERS
Claudio Aguirre Pemán    
Modesto Álvarez Otero 
Rafael Ansón Oliart 
Iñaki Berenguer
Manuel Falcó, marqués de Castel-Moncayo
Juan Díaz-Laviada
Santiago Ybarra, conde de El Abra
Jesús Encinar Rodríguez
Isabel Estapé Tous 
Ignacio Faus Pérez
Enrique González Campuzano
Monique Hatcwell Altaras
Elena Ochoa, lady Foster 
María Lavalle 
MEMBERS
Pilar Solís-Beaumont, marquesa de Marañón
Ernesto Mata L​ópez
Víctor Matarranz Sanz de Madrid
Teresa Mazuelas Pérez-Cecilia 
Julia Oetker 
Luisa Orlando Olaso
Paloma del Portillo Yravedra 
Helena Revoredo de Gut 
Alfredo Sáenz Abad
José Manuel Serrano-Alberca
Manuel Serrano Conde
Lilly Scarpetta
Eugenia Silva
SECRETARY
Marisa Vázquez-Shelly
Director of Private Sponsorship
GENERAL DIRECTOR
Ignacio García-Belenguer Laita
GENERAL DIRECTION  
Borja Ezcurra
Carolina Gamo Lara
Isabel Sánchez Marín
GENERAL SECRETARY  
PROCUREMENT UNIT 
Javier Díaz-Meco Aragonés
David de la Guía Robles
ARTISTIC DIRECTION
Joan Matabosch Grifoll
Konstantin Petrowsky
DEPARTMENT OF CULTURAL PROMOTION AND NEW AUDIENCES 
Fernando Olives Gomila
Raúl Amor Álvarez
Paloma Alvar Nuño
Rita Cosentino
Marta Villegas Fontela
PRODUCTION MANAGEMENT 
Justin Anthony Way
Nuria Moreno Espert
Fernando Palacios Jorge
María Helena Poveda Valiente
Ana Ramírez Sanz
Daniel López Calvo
SUPPORT UNIT FOR PROCUREMENT  
Arancha Martínez Conde
Ana Mentrida Costales
MUSICAL DIRECTION
Ivor Bolton
Pablo Heras-Casado
Nicola Luisotti
Andrés Máspero
Patricia Barton
Riccardo Bini
Beatriz Ausín Zorrilla
Elena Pinillos Laffon
SPONSORSHIP DIRECTION  
Borja Ezcurra
Bárbara Santana
Marisa Vázquez-Shelly
Belén Giménez Martín
Begoña Pérez Cerdeño
María Gema Valverde Medina
Mónica Tarré Pedreira
Rodrigo Arribas Fontela
DIRECTION OF BRAND, ADVERTISING AND DIGITAL PROMOTION 
Lourdes Sánchez-Ocaña Redondo
Manuel García García
María Reguilón Gallego
Laura Racero Millán
COMMUNICATION DEPARTMENT
Concha Barrigós
Inés Tostón Sacristán
Graça Prata Ramos
DEPARTMENT OF INSTITUTIONAL RELATIONS AND EVENTS ORGANISATION 
Marta Rollado Ruiz
Miguel Ángel Casado Ledesma
Fernando Nicolás Cámara
Ana Serrano Alcoba
Cristina Jerez Flores
IT SYSTEMS DEPARTMENT 
Fernando Martínez Cortés
José Antonio Calderón Santos
Javier Gutiérrez San Segundo
HUMAN RESOURCES DEPARTMENT 
Chus Barriga de Arriba
Victoria Moreno Milán
Carmen Imaz Rubalcaba
Carmen García-Ochoa Blanco
Laudelina Martín Álvarez
Cristina Ledo Leiro  
ECONOMIC AND FINANCIAL SERVICES DEPARTMENT 
Susana Rubio de la Cruz
Begoña Rincón Sopuertas
Nidia Ruiz Escudero
Sergio Estrada López
Cecilia Nieto Egido 
INFRASTRUCTURES DEPARTMENT  
Nuria Gallego Salvador
Beatriz Minchán
Francisco Luis López Campillo
Mariano Zapardiel López
Roberto Úbeda Montoya
MARKETING, SALES AND QUALITY DEPARTMENT 
Curro Ramos Zaldívar
Raquel Bautista Tenorio
Araceli Sebastián Garrido
Gema Ceñera González 
Gemma Barreales Barredo
Esther Valls Sacristán
Begoña Espinosa de Gregorio
TECHNICAL DIRECTION 
Carlos Abolafia Diaz
María Pérez-Bermúdez Rodríguez
Celeste Carrasco Moreno
Guadalupe Holguera Durán
Fernando Martínez Herranz
Raúl Romero Minguez
Jesús Rueda Ludeña
María Paz Funes Jiménez
Gloria del Mar García Bodalo
PROJECTS UNIT 
Eva María Pérez González
María Isabel de la Cruz Sánchez
Estíbaliz Saez de Lafuente Calvo
AUDIOVISUAL PRODUCTION  
Natalia Camacho López
David Pérez Gancedo
Francisco Javier Huertas Rodríguez
Juan José Sánchez Hernando
Ignacio García Recio
Lucía Naveiro Grande
STAGE DIRECTION 
José Luis Jiménez Fernández
Óscar Muñoz Maroto
Antonio Pozón Hernández
Alberto Castro Medina
Francisco Gallardo Izquierdo
Manuel Ángel García Marcos
José Luis Jiménez Moreno
José Madrid Ruiz
José Luis Manrique Alegre
Eduardo Sánchez González 
AUDIOVISUAL SECTION 
Fernando Valiente Uceda
Juan Almenara Rodríguez
José Manuel Bernabeu Borrás
Jesús Romero de Ávila Díaz-Cano
Miguel A. San Martín Hermosilla
Pablo López Catalán
Rosario del Boz Herrero
Pedro Antonio López Córdoba
Miriam López de Haro Sánchez
Francisco López Florin
Mª Victoria Sola Vela
Miguel Ángel Vallejo Cívicos
Luis Javier Hernanz Aparicio 
LIGHTING SECTION 
Ángel Palomino Torres
Jesús Ángel García Miguel
Mª del Carmen Salazar Corral
Gabriel Torres Martín
Rafael Verdura García
Vidal Jiménez Talavera
Ana Isabel Miguel Cambón
Julián Real García
Luis Villalba Gutiérrez
Fermín Acevedo Prieto
Alberto Álvarez Cruz
Federico Arribas Fontela
Luis Benayas Martín
Diego José Berbel Hernando
Ramón Cabello Jurado
José Ignacio García Miguel
Jaqui Gómez Navarro
Pedro Mario Horna Martín de la Plaza
José María Martín Pedraza
Ana Mesonero Barbero
Juan Antonio Pérez Oliveira
Pablo Requejo Vasco
José Luis Rodríguez Puente
Juan Manuel Ruíz Ariza
Antonio Sánchez Correal
Alfonso Segundo Carrasco
Francisco Ruiz Azorín
MACHINERY SECTION 
Antonio Castro Medina
Luis Jiménez Gómez
José María López León
David Reneses Mínguez
Pablo Lizardo Sánchez González
Francisco Hernández Serrano
Justo Manuel Abad Ros
Eugenio Donaire López-Cano
Santiago Jiménez Martínez
Emilio López de la Serna
Juan Carlos Moldes Vallecas
Pedro Muñoz Blázquez
Adolfo Ruano Díaz
Sergio Santos Meras
Francisco Javier Arévalo Nieto
Amalio Atienza Gallego
Juan Bautista Minaya
José Ramón Berzosa Feito
Juan Pedro Berzosa Feito
José Luis Blázquez Martín 
Javier Calvo Tenorio
Bienvenido Ferrero Martín
Juan Carlos García Bodalo
Higinio Gómez Carrera
Ramón Gómez González
José Manuel González Pérez
Antonio Vicente Jiménez Más
José Luis López Izquierdo
José Luis López Laserna
Antolín Martínez Herrero
Raúl Moreno Rodríguez
Francisco José Muñoz Campos
Ángel Muñoz González
David Muñoz Puebla
Miguel Ángel Olmedo Jiménez
Iván Francisco Ortega López
Jesús Parra Moreno
Andrés Pérez García
Carlos Gustavo Pérez Paraíso
Gema Rodríguez Vacas
José David Rodríguez Zoído
Cándido Saavedra Cortina
Antonio J. Sánchez González
José Reyes Sánchez Romero
Mario Torres Alido
Jesús Zapardiel Elola
Julián Zapardiel Elola
Manuel Martínez Femia
STAGE MECHANICS SECTION 
Jesús Garnelo Álvarez
Sara Amich Mato
Mª Dolores Andreu Cueto
Javier Díaz-Cardiel Álvarez
Luis Vicente Estrada Manjabacas
José Luis Estevez Recio
Carlos José Fernández Seligrat
Rafael González Carrasco
Gorka Herrero Arechavala
Esteban Martínez Tomico
Pedro Melendo Pérez de Muñoz
Nicolás Montañez Carrasco
Alejandro Pannocchia Alonso
Reyes Sánchez del Viejo
Antonio Segovia Martín-Rubio
Germán Alameda Conde
Juan José Fernández García
Jesús Ligero Bravo
Luis María Simón Sanz
Eugenio Leganés Fernández
Laura Herraiz Herraiz
Alejandro Palomeque Herrero
TAILORING AND CHARACTERISATION SECTION 
Ovidio Ceñera González
Miriam de Antonio Paniagua
Mª Flora Domínguez Regueiro
Carlos Luis Palomo Aparici
Mª Josefa Blanco Acosta
Mª José Cepeda López
Mª Rosario Baena Alonso
Margarita Esparza Fernández
Benjamín Fernández Gómez-Chacón
Mª del Carmen Gallego Moreno
Pilar Herce Lambarri
Dolores Heredia Sánchez
Pedro Antonio Herrera de la Muela
Cristina Novoa Sánchez
Ana María Pérez Asenjo
Teresa Rubio García
Sacramento Sánchez González
Mª Soledad Sánchez López
Araceli Valentín Barrera
Mª Carmen Villadoniga Costa
Elena de Paz Amerigo
Ana Salvador Magán
Rosa María Caballero García
Mª Elena García Urien
Mª Esther Dolera Gil
Pilar Álvarez Fernández
Eva Mª Arce Bueno
María Ángeles Arcelus Lasa
Francisco Barquinero González
Mª Teresa Bujeda Doñate
Rut Mª Lamana Simón
Mª Paloma Llorente Díaz
Guadalupe Montero Blanco
Mª del Mar Rioja Canales
Mª Ángeles Rivera Mauri
Alicia Ronquillo Mata
Marco Antonio Ropero Carballo
Sara Abigail Álvarez Rodriguez
PROPS SECTION 
Álvaro Aguado Zorrilla
Raquel Aladro Roldán
Vicente Bravo López
Juan de Ramón-Laca Menéndez
Carlos del Tronco Luaces
Daniel Martín de Lucas
David Arranz Castaño
Silvia Blázquez Cruz
Mª del Carmen Aladro Roldán
Antonio Calvo Tenorio
Pablo Gómez Cardenal
Antonio Herrero Duque
Mª del Carmen Mosquera Gallardo
José Daniel Nicolay Oses
Silvia Ortiz Navarro
María Otegui Gutiérrez
José Israel Pellus González
Mª Isabel Pérez Roldán
Jaime Pulido Sánchez
Alberto Romero de Ávila Díaz-Cano
Juan Luis Sánchez Rebollo
Pablo Gómez Cardenal
STAGE MANAGEMENT SECTION 
José Antonio Torres Benito
Guillermo Carbonell Riera
Hugo Fernández Barrenechea
Eva Mª Asurmendi Medina
Mª José Hernández Sánchez
Jaume Roca Serra
Pedro Jesús Tojar Sánchez
Nieves Garcimartín García
ORCHESTRA OF THE TEATRO REAL 
Orquesta Sinfónica de Madrid
CHORUS OF THE TEATRO REAL  ​​​​​​​
Are you an Amigo del Teatro Real yet?
Live the Teatro Real experience beyond its wonderful productions and you will contribute to elevating our institutional project.