BOARD OF TRUSTEES
HONORARY PRESIDENCY
SS.MM. los Reyes de España
PRESIDENT
Gregorio Marañón y Bertrán de Lis
VICEPRESIDENT
Helena Revoredo de Gut
FULL TRUSTEES
Miquel Iceta
Ministro de Cultura y Deporte
Isabel Díaz Ayuso 
Presidenta de la Comunidad de Madrid
José Luis Martínez-Almeida Navasqüés 
Alcalde de Madrid
Marta Rivera de la Cruz 
Consejera de Cultura y Turismo de la Comunidad de Madrid
Javier García Fernández
Secretario General de Cultura del Ministerio de Cultura y Deporte
Andrea Gavela Llopis
Subsecretaria de Cultura y Deporte
Amaya de Miguel Toral 
Directora General del INAEM del Ministerio de Cultura y Deporte
Gonzalo Cabrera Martín
Director General de Promoción Cultural de la Comunidad de Madrid
TRUSTEES
Luis Abril Pérez
José Antonio Álvarez Álvarez
José María Álvarez-Pallete López
Ignacio Astarloa Huarte-Mendicoa
Adolfo Autric Amarillo de Sancho
José Bogas Gálvez
Antonio Brufau Niubó
Demetrio Carceller Arce
Rodrigo Echenique Gordillo
Isidro Fainé Casas
Javier Gomá Lanzón
María José Gualda Romero
Francisco Ivorra Miralles
Andrea Levy Soler
Jaime Montalvo Correa
Eduardo Navarro de Carvalho
Enrique Ossorio Crespo
Florentino Pérez Rodríguez
Rafael Pardo Avellaneda
Ignacio Rodulfo Hazen
Jerónimo Saavedra Acevedo
Elena Salgado Méndez
Jaime Miguel de los Santos González
Mario Vargas Llosa
HONORARY TRUSTEES
Carmen Calvo Poyato
Esperanza Aguirre Gil de Biedma
Alberto Ruíz-Gallardón Jiménez
DIRECTOR GENERAL
Ignacio García-Belenguer Laita
VICE-SECRETARIES
Carmen Acedo Grande
Antonio Garde Herce
ARTISTIC DIRECTOR
Joan Matabosch Grifoll
EXECUTIVE COMMISSION
PRESIDENT
Gregorio Marañón y Bertrán de Lis
FULL MEMBERS
Marta Rivera de la Cruz
Amaya de Miguel Toral
MEMBERS
Andrea Gavela Llopis
Gonzalo Cabrera Martín
Eduardo Navarro de Carvalho
Alfredo Sáenz Abad
DIRECTOR GENERAL
Ignacio García-Belenguer Laita
SECRETARY
Bernat Vidal Arbona
VICE-SECRETARIES
Carmen Acedo Grande
Antonio Garde Herce
ARTISTIC DIRECTOR
Joan Matabosch Grifoll
GENERAL DIRECTION
DIRECTOR GENERAL
Ignacio García-Belenguer Laita
 
DEPUTY GENERAL DIRECTOR AND DIRECTOR OF SPONSORSHIP AND PATRONAGE
Borja Ezcurra
 
ARTISTIC DIRECTION
ARTISTIC DIRECTOR
Joan Matabosch Grifoll
DIRECTOR OF ARTISTIC COORDINATION
Konstantin Petrowsky
MUSICAL DIRECTOR
Ivor Bolton
PRINCIPAL GUEST CONDUCTOR
Pablo Heras-Casado
PRINCIPAL GUEST CONDUCTOR
Nicola Luisotti
CHORUS DIRECTOR
Andres Máspero
TECHNICAL DIRECTOR
Carlos Abolafia
PRODUCTION DIRECTOR
Justin Way
CASTING CONSULTANT
Alessandro Di Gloria
PRIVATE SPONSORSHIP
DIRECTOR OF PRIVATE SPONSORSHIP
Marisa Vázquez-Shelly
INSTITUTIONAL RELATIONS AND CORPORATE EVENTS
DIRECTOR OF INSTITUTIONAL RELATIONS AND CORPORATE EVENTS
Marta Rollado Ruiz
PRESS AND MEDIA RELATIONS
DIRECTOR OF PRESS AND MEDIA RELATIONS
José María Noguerol Fernández
ADVERTISING, CORPORATE IDENTITY AND DIGITAL PROMOTION
DIRECTOR OF ADVERTISING, CORPORATE IDENTITY AND DIGITAL PROMOTION
Lourdes Sánchez-Ocaña Redondo
PUBLICATIONS, SPECIAL EVENTS AND EDUCATION
DIRECTOR OF PUBLICATIONS, SPECIAL EVENTS AND EDUCATION
Laura Furones 
PRODUCTION AND AUDIOVISUAL BROADCASTING
DIRECTOR OF PRODUCTION AND AUDIOVISUAL BROADCASTING
Natalia Camacho López
The Board of Advisors is the foundation's advisory body and comprises leading cultural figures.
PRESIDENT
Antonio Muñoz Molina
HONORARY PRESIDENT
Mario Vargas Llosa
MEMBERS
Carlos Aladro
Manuel Borja-Villel
Teresa Catalán Sánchez
Hernán Cortés Moreno
Núria Espert
Miguel Falomir Faus
Iñaki Gabilondo Pujol
Ana Gallego Torres
María Dolores García Gómez, Lola de Ávila
Laura García-Lorca de los Ríos
Luis García Montero
Javier Gomá Lanzón
José Luis Gómez 
Manuel Gutiérrez Aragón
Montserrat Iglesias
Carmen Iglesias Cano
Arnoldo Liberman Stilman
Antonio Muñoz Molina
Fabián Panisello
Rafael Pardo Avellaneda
José María Prado García 
Mercedes Rico Carabias
Ana Santos Aramburo
Amelia Valcárcel
y Bernaldo de Quirós 
SECRETARY
Laura Furones Fragoso
Director of Publications, Special Events and Education
The Board of Protectors, chaired by Claudio Aguirre Pemán, is made up of representatives from some of the most important companies in Spain.
The organisation aims to promote participation in civil society and ensure that Foundation runs properly, and meets twice a year. Directors or other members of senior management from companies that are Associates, Sponsor or Patrons can participate in the meeting.
PRESIDENT
Claudio Aguirre Pemán
Presidente y Socio Fundador de Altamar Capital Partners
HONORARY PRESIDENT
Alfredo Sáenz Abad
VICE PRESIDENTS
José Bogas Gálvez
Consejero Delegado de Endesa
Rodrigo Echenique Gordillo
Presidente de la Fundación Banco Santander
Isidro Fainé Casas
Presidente de la Fundación Bancaria "la Caixa"
Domingo Mirón Domínguez
Presidente de Accenture en España, Portugal e Israel
Eduardo Navarro de Carvalho
Director de Estrategia y Asuntos Corporativos de Telefónica S.A.
Rafael Pardo Avellaneda
Director General de la Fundación BBVA
MEMBERS
Fernando Abril-Martorell Hernández
Presidente de Indra
Hilario Albarracín Santa Cruz
Presidente de KPMG en España
Juan Alcaraz López
Consejero Delegado de Allfunds Bank
José Antonio Álvarez Álvarez 
Consejero Delegado del Banco Santander
Julio Ariza Irigoyen
Presidente del Grupo Intereconomía
Alberto Artero Salvador
Director General de El Confidencial 
Álvaro Artiach-Vila San Juan 
Director General de Sisley España
Fernando Bergasa Cáceres
Presidente de la Fundación Redexis
Antonio Brufau Niubó
Presidente de Fundación Repsol
Candela Bustamante Hernández
Administradora Única del Grupo Index
Demetrio Carceller Arce
Presidente de Fundación Damm
Mauricio Casals Aldama
Presidente de La Razón
Alicia Catalán Heredero
Directora General de NOHO Comunicación
Juan Manuel Cendoya Méndez de Vigo
Vicepresidente de Santander España y Director General de Comunicación, Marketing Corporativo y Estudios del Banco Santander 
Luis Díaz Rubio Amate
Presidente y Consejero Delegado de Janssen-Cilag 
Jesús Encinar Rodríguez
Fundador de Idealista
Ignacio Eyries García de Vinuesa
Director General Grupo Caser
Jon Fernández de Barrena
Presidente y Consejero Delegado de Altadis
Antonio Fernández-Galiano Campos
Presidente Ejecutivo de Unidad Editorial
Georgina Flamme Piera
Directora de Reputación Corporativa y Comunicación de Abertis
Luis Furnells Abaunz
Presidente Ejecutivo de Grupo Oesía
Antonio García Ferrer
Vicepresidente Ejecutivo de Fundación ACS
Jordi García Tabernero
Director General de Comunicación y Relaciones Institucionales de Naturgy
Pablo González Ayala
Consejero Delegado de Exterior Plus
Jesús Huerta 
Presidente de Loterías y Apuestas del Estado
Philippe Huertas
Director General de Breguet para España
Enrique V. Iglesias García
Francisco Ivorra Miralles
Presidente de Asisa
Enrique Jiménez Figueroa
Director General de Philip Morris ES&PT
Tony Jin Yong
CEO de Huawei España
José Joly Martínez de Salazar
Presidente de Grupo Joly
Federico Linares
Presidente de EY España
Juan José Litrán Melul
Director de la Fundación Coca-Cola
Antonio Llardén Carratalá
Presidente de Enagás
MEMBERS
Eduardo López-Puertas Bitaubé
Director General de Ifema
José Pablo López Sánchez
Director General de Radio Televisión Madrid
Maurici Lucena i Betriu
Presidente y Consejero Delegado de AENA
Javier Martí Corral
Presidente de Fundación Excelentia
Asís Martín de Cabiedes
Presidente de Europa Press
Rosa María Mateo Isasi
Administradora Única de la Corporación RTVE
Iñigo Meirás Amusco
CEO del Grupo Logista 
Antonio Miguel Méndez Pozo
Presidente de Grupo de Comunicación Promecal
Francisco Javier Moll de Miguel
Presidente de Prensa Ibérica
Jaime Montalvo Correa
Vicepresidente de la Mutua Madrileña
Remedios Orrantia Pérez
Presidenta de la Fundación Vodafone España
Javier Pascual del Olmo
Presidente del Consejo de Condé Nast España
Eduardo Pastor Fernández
Presidente de Cofares
Pedro Pérez-Llorca Zamora
Socio Director de Pérez-Llorca
Ignacio Polanco Moreno
Presidente de Honor de PRISA
Antonio Pulido Gutiérrez
Presidente de Cajasol
François Rameau
Senior Country Officer Iberia Crédit Agricole CIB
Pedro J. Ramírez Codina
Presidente de El Español
Paloma Real Funez
Directora General de MasterCard España
Miguel Riaño Pombo
Socio Director de Herbert Smith Freehills Spain
Narcís Rebollo Melció
Presidente de Universal Music
Andrés Rodríguez Sánchez
Presidente y editor de Spainmedia
Matías Rodríguez Inciarte
Fernando Ruiz Ruiz
Presidente de Deloitte España
Marta Ruiz-Cuevas
CEO Publicis Groupe Iberia & Mexico
Javier Sánchez-Prieto Alcázar
Presidente Ejecutivo de IBERIA
José Mª Sánchez Santa Cecilia
CEO Prodware Spain
Juan Manuel Serrano Quintana
Presidente de la Sociedad Estatal de Correos y Telégrafos
Alfonso Serrano-Suñer de Hoyos
Presidente de Management Solutions
Guilherme Silva 
Director General de Japan Tobacco International Iberia
Ángel Simón Grimaldos
Presidente de Suez España
Manuel Terroba Fernández
Presidente Ejecutivo del Grupo BMW España y Portugal
Juan Carlos Ureta Domingo
Presidente de Renta 4 Banco
Paolo Vasile
Consejero Delegado de Mediaset España
Antonio Vila Bertrán 
Director General de la Fundación "la Caixa"
Ignacio Ybarra Aznar
Presidente de Vocento
SECRETARY
Borja Ezcurra
Deputy General Director and Director of Sponsorship and Patronage
The Diplomatic Circle was founded in 2014. It includes 12 ambassadors who participate in the activities of the Teatro Real as representatives of the international community: Russia, Saudi Arabia, Canada, Belgium, Germany, Colombia, France, United Kingdom, Japan, China, Italy and Mexico.
MEMBERS
H.E. Mr. Yuri P. Korchagin
Russian Ambassador
H.E. Mr. Mansour Bin Khalid Alfarhan al Saud
Ambassador of Saudi Arabia
H.E. Mr. Matthew Levin
Canadian Ambassador
H.E. Mr. Marc Calcoen
Belgian Ambassador
H.E. Mr. Wolfgang Hermann Dold
German Ambassador
H.E. Mrs. Carolina Barco
Ambassador of Colombia
H.E. Mr. Jean-Michel Casa
French Ambassador
H.E. Mr. Hugh Elliot
British Ambassador
H.E. Mr. Kenji Hiramatsu
Japanese Ambassador
H.E. Mr. Wu Haitao
Chinese Ambassador
H.E. Mr. Riccardo Guariglia
Italian Ambassador
Mexico's Embassy
SECRETARY
Marisa Vázquez-Shelly
Director of Private Sponsorship
The International Council is a support body into the structure of the Teatro Real which aims to promote the participation of civil society internationally at the Teatro Real and the dissemination of its artistic project. Among its members are prominent figures who share their functioning of the Teatro Real.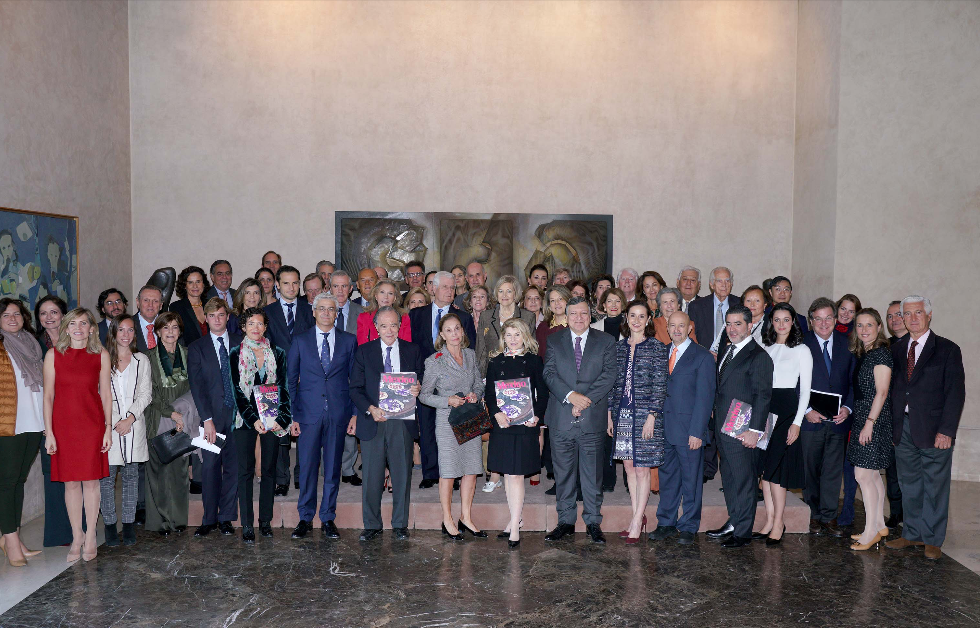 PRESIDENT
Helena Revoredo de Gut
VICEPRESIDENT
Fernando D'Ornellas Silva
MEMBERS
Claudio Aguirre Pemán
Gonzalo Aguirre González
Marta Álvarez Guil
Carlos Fitz-James Stuart, duque de Alba
Marcos Arbaitman
Jaime Argüelles Armada
Sofía Barroso Fernández de Araoz
Alicia Koplowitz, marquesa de Bellavista
Karolina Blaberg
José Bogas Gálvez
Jerónimo y Stefanie Bremer Villaseñor
Charles Brown
Teresa A.L. Bulgheroni
Carlos Augusto y Monica Dammert
Valentín Díez Morodo
José Manuel Durão Barroso
Claudio Engel
José Manuel Entrecanales Domecq y María Carrión López de la Garma
José Antonio y Beatrice Esteve
Jon Fernández de Barrena
Anne Fitzpatrick 
Jaime y Rakel Gilinski
José Graña Miró-Quesada
Carlo Grosso
Pau Guardans i Cambó y Pilar García-Nieto
Bárbara Gut Revoredo
Chantal Gut Revoredo
Christian Gut Revoredo
Germán Gut Revoredo
Bruce Horten y Aaron Lieber
Fernando Fitz-James Stuart y Sofía Palazuelo Barroso, duques de Huéscar
Rodrigo Lebois Mateos y Almudena Ocejo Aja
Harry Lee y Clive Potter
Gerard López
Abelardo Morales Purón
Pedro y Mercedes Madero
Marta Marañón Medina
Cristina Marañón Weissenberg
Pilar Solís-Beaumont, marquesa de Marañón
Víctor Matarranz Sanz de Madrid
Xandra Falcó Girod, marquesa de Mirabel
y Jaime Carvajal Hoyos, marqués de Almodóvar del Río
Julia Oetker
Paloma O'Shea
Patricia O'Shea
Juan Antonio Pérez Simón
Alejandro F. Reynal y Silke Bayer de Reynal
David Rockefeller Jr. y Susan Rockefeller
Eileen Rosenau
Álvaro Saieh, Ana de Saieh y Catalina Saieh
Isabel Sánchez-Bella Solís
Carlos Salinas y Ana Paula Gerard
Luis Carlos Sarmiento, Fanny Gutiérrez y Sonia Sarmiento
Arturo Sarmiento y María Guerrero
Paul Saurel
Antonio del Valle
Ulrike Winkler
Chiona Xanthopoulou-Schwarz
SECRETARY
Marisa Vázquez-Shelly
Director of Private Sponsorship
The members of the Junta de Amigos (Board of Friends) represent various business, culture and social circles. Its mission is to encourage support and participation from the community, so as to build upon and develop activities within the institution and beyond into the cultural life of Spain. The members of the Junta de Amigos enjoy a series of benefits from the Teatro Real. 
PRESIDENT
Jesús María Caínzos Fernández
 
VICE-PRESIDENT
Myriam Lapique de Cortina
 
MEMBERS
Claudio Aguirre Pemán    
Blanca Suelves Figueroa, duquesa de Alburquerque 
Modesto Álvarez Otero 
Rafael Ansón Oliart 
José Ballesteros Requejo
Juan Díaz-Laviada
Santiago Ybarra, conde de El Abra
Jesús Encinar Rodríguez
Isabel Estapé Tous 
Ignacio Faus Pérez
Íñigo Fernández de Mesa
Fernando Fernández Tapias 
Elena Ochoa, lady Foster 
María Guerrero Sanz
María Lavalle 
MEMBERS
Pilar Solís-Beaumont, marquesa de Marañón
Ernesto Mata L​ópez
Teresa Mazuelas Pérez-Cecilia 
Julia Oetker 
Luisa Orlando Olaso
Paloma del Portillo Yravedra 
Helena Revoredo de Gut 
Alfredo Sáenz Abad
José Manuel Serrano-Alberca
Lilly Scarpetta
Eugenia Silva
Nicolás Villén Jiménez
SECRETARY
Marisa Vázquez-Shelly
Director of Private Sponsorship
DIRECTOR GENERAL
Ignacio García-Belenguer Laita
GENERAL DIRECTION
Borja Ezcurra
Carolina Gamo Lara
Isabel Sánchez Marín
GENERAL SECRETARIAT
Manuel Llerandi Carrasco
Javier Díaz- Meco Aragonés
ARTISTIC DIRECTION
Joan Matabosch Grifoll

Konstantin Petrowsky
Marcia Medina Pereiro
PUBLICATIONS, SPECIAL EVENTS AND EDUCATION DEPARTMENT
Laura Furones Fragoso

Raúl Amor Álvarez
Miguel Ángel de las Heras Cristóbal
María del Pilar Lozano Mijares
DIRECTION OF PRODUCTION
Justin Anthony Way

Nuria Moreno Espert
Fernando Palacios Jorge
María Helena Poveda Valiente
Ana Ramírez Sanz
Daniel López Calvo
Arancha Martínez Conde
EDUCATIONAL UNIT
Rita Cosentino

Marta Villegas Fontela
MUSICAL DIRECTION
Ivor Bolton

Pablo Heras-Casado

Nicola Luisotti

Andrés Máspero

Patricia Barton

Riccardo Bini
Mack Sawyer
Beatriz Ausín Zorrilla
Elena Pinillos Laffon
SPONSORSHIP DIRECTION
Borja Ezcurra

Marisa Vázquez-Shelly
Lucía Los Arcos Magdalena
Ana Isabel Uceta Fernández
Belén Giménez Martín
Cristina Jerez Flores
Begoña Pérez Cerdeño
María Gema Valverde Medina
Mónica Tarré Pedreira
Rodrigo Arribas Fontela
DIRECTION OF ADVERTISING, CORPORATE IDENTITY AND DIGITAL PROMOTION
Lourdes Sánchez-Ocaña Redondo

Manuel García García
María Reguilón Gallego
Laura Racero Millán
PRESS AND MEDIA RELATIONS DEPARTMENT
José María Nogerol Fernández

Mª Graça Prata Ramos
Inés Tostón Cristóbal
INSTITUTIONAL RELATIONS AND CORPORATE EVENTS DEPARTMENT
Marta Rollado Ruiz

Miguel Ángel Casado Ledesma
Fernando Nicolás Cámara
Ana Serrano Alcoba
Gemma Barreales Barredo
​IT DEPARTMENT
Fernando Martínez Cortés

José Antonio Calderón Santos
Javier Gutiérrez San Segundo
HUMAN RESOURCES DEPARTMENT
Chus Barriga de Arriba

Victoria Moreno Milán
Carmen García-Ochoa Blanco
Laudelina Martín Álvarez
Cristina Ledo Leiro  
ECONOMIC AND FINANCIAL SERVICES DEPARTMENT
Susana Rubio de la Cruz

Paloma Sarrión Lozano
Begoña Rincón Sopuertas
Nidia Ruiz Escudero
Leticia Recamal Arribas
INFRASTRUCTURES DEPARTMENT
Nuria Gallego Salvador

Beatriz Minchán
Francisco Luis López Campillo
Mariano Zapardiel López
Roberto Úbeda Montoya
MARKETING, SALES AND CUSTOMER EXPERIENCE DEPARTMENT
Curro Ramos Zaldívar
Raquel Bautista Tenorio
Araceli Sebastián Garrido
Carmen Imaz Rubalcaba
Gema Ceñera González
Gemma Barreales Barredo
Esther Valls Sacristán
TECHNICAL DIRECTION
Carlos Abolafia Diaz

María Pérez-Bermúdez Rodríguez
Celeste Carrasco Moreno
Guadalupe Holguera Durán
Fernando Martínez Herranz
Raúl Romero Minguez
Jesús Rueda Ludeña
Leticia Frutos Amián
María Paz Funes Jiménez
PROJECTS UNIT
Eva María Pérez González

María Isabel de la Cruz Sánchez
Esther Garrido Plaza
AUDIOVISUAL PRODUCTION
Natalia Camacho López

David Pérez Gancedo
Francisco Javier Huertas Rodríguez
Juan José Sánchez Hernando
STAGE DIRECTION
José Luis Jiménez Fernández

Óscar Muñoz Maroto

Antonio Pozón Hernández

Alberto Castro Medina

Francisco Gallardo Izquierdo
Manuel Ángel García Marcos
José Luis Jiménez Moreno
José Madrid Ruiz
José Luis Manrique Alegre
AUDIOVISUALS SECTION
Fernando Valiente Uceda

Juan Almenara Rodríguez
José Manuel Bernabeu Borrás
Jesús Romero de Ávila Díaz-Cano
Miguel A. San Martín Hermosilla
Pablo López Catalán
Rosario del Boz Herrero
Ignacio García Recio
Pedro Antonio López Córdoba
Miriam López de Haro Sánchez
Francisco López Florin
Mª Victoria Sola Vela
Miguel Ángel Vallejo Cívicos
LIGHTING SECTION
Ángel Palomino Torres

Jesús Ángel García Miguel
Mª del Carmen Salazar Corral
Gabriel Torres Martín
Rafael Verdura García
Vidal Jiménez Talavera
Ana Isabel Miguel Cambón
Julián Real García
Luis Villalba Gutiérrez
Fermín Acevedo Prieto
Alberto Álvarez Cruz
Federico Arribas Fontela
Luis Benayas Martín
Diego José Berbel Hernando
Ramón Cabello Jurado
José Ignacio García Miguel
Jaqui Gómez Navarro
Pedro Mario Horna Martín de la Plaza
José María Martín Pedraza
Fernando Martínez Hernánz
Ana Mesonero Barbero
Juan Antonio Pérez Oliveira
Pablo Requejo Vasco
José Luis Rodríguez Puente
Juan Manuel Ruíz Ariza
Antonio Sánchez Correal
Alfonso Segundo Carrasco
MACHINERY SECTION
Antonio Castro Medina

Luis Jiménez Gómez
José María López León
David Reneses Mínguez
Pablo Lizardo Sánchez González
Francisco Hernández Serrano
Justo Manuel Abad Ros
Eugenio Donaire López-Cano
Santiago Jiménez Martínez
Emilio López de la Serna
Juan Carlos Moldes Vallecas
Pedro Muñoz Blázquez
Adolfo Ruano Díaz
Sergio Santos Meras
Francisco Javier Arévalo Nieto
Amalio Atienza Gallego
Juan Bautista Minaya
José Ramón Berzosa Feito
Juan Pedro Berzosa Feito
José Luis Blázquez Martín 
Javier Calvo Tenorio
Bienvenido Ferrero Martín
Juan Carlos García Bodalo
Higinio Gómez Carrera
Ramón Gómez González
José Manuel González Pérez
Antonio Vicente Jiménez Más
José Luis López Izquierdo
José Luis López Laserna
Antolín Martínez Herrero
Raúl Moreno Rodríguez
Francisco José Muñoz Campos
Ángel Muñoz González
David Muñoz Puebla
Miguel Ángel Olmedo Jiménez
Iván Francisco Ortega López
Jesús Parra Moreno
Andrés Pérez García
Carlos Gustavo Pérez Paraíso
Gema Rodríguez Vacas
José David Rodríguez Zoído
Cándido Saavedra Cortina
Antonio J. Sánchez González
José Reyes Sánchez Romero
Mario Torres Alido
Jesús Zapardiel Elola
Julián Zapardiel Elola
STAGE MECHANICS SECTION
Jesús Garnelo Álvarez

Sara Amich Mato
Mª Dolores Andreu Cueto
Javier Díaz-Cardiel Álvarez
Luis Vicente Estrada Manjabacas
Miguel Ruiz Collis
José Luis Estevez Recio
Carlos José Fernández Seligrat
José A. Fernández-Puebla Parra
Rafael González Carrasco
Gorka Herrero Arechavala
Esteban Martínez Tomico
Pedro Melendo Pérez de Muñoz
Nicolás Montañez Carrasco
Alejandro Pannocchia Alonso
Reyes Sánchez del Viejo
Antonio Segovia Martín-Rubio
Germán Alameda Conde
Juan José Fernández García
Jesús Ligero Bravo
Luis María Simón Sanz
Eugenio Leganés Fernández
TAILORING AND CHARACTERIZATION SECTION
Ovidio Ceñera González

Miriam de Antonio Paniagua
Mª Flora Domínguez Regueiro
Carlos Luis Palomo Aparici
Mª Josefa Blanco Acosta
Mª José Cepeda López
Mª Rosario Baena Alonso
Margarita Esparza Fernández
Benjamín Fernández Gómez-Chacón
Mª del Carmen Gallego Moreno
Pilar Herce Lambarri
Dolores Heredia Sánchez
Pedro Antonio Herrera de la Muela
Cristina Novoa Sánchez
Ana María Pérez Asenjo
Mª Dolores Rodríguez Hernández
Teresa Rubio García
Sacramento Sánchez González
Mª Soledad Sánchez López
Araceli Valentín Barrera
Mª Carmen Villadoniga Costa
Suely-Amelia da Costa Ferreira
Rosa María Caballero García
Mª Elena García Urien
Mª Milagros Pascual de la Fuente
Mª Esther Dolera Gil
Pilar Álvarez Fernández
Eva Mª Arce Bueno
María Ángeles Arcelus Lasa
Francisco Barquinero González
Mª Teresa Bujeda Doñate
Rut Mª Lamana Simón
Mª Paloma Llorente Díaz
Guadalupe Montero Blanco
Mª del Mar Rioja Canales
Mª Ángeles Rivera Mauri
Alicia Ronquillo Mata
Marco Antonio Ropero Carballo
PROPS SECTION
Álvaro Aguado Zorrilla

Raquel Aladro Roldán
Vicente Bravo López
Juan de Ramón-Laca Menéndez
Carlos del Tronco Luaces
Daniel Martín de Lucas
David Arranz Castaño
Silvia Blázquez Cruz
Mª del Carmen Aladro Roldán
Arístides Cajide Ruíz
Antonio Calvo Tenorio
Pablo Gómez Cardenal
Antonio Herrero Duque
Mª del Carmen Mosquera Gallardo
José Daniel Nicolay Oses
Silvia Ortiz Navarro
María Otegui Gutiérrez
José Israel Pellus González
Mª Isabel Pérez Roldán
Jaime Pulido Sánchez
Alberto Romero de Ávila Díaz-Cano
Daniel Sánchez Rebollo
Juan Luis Sánchez Rebollo
Pablo Gómez Cardenal
STAGE MANAGEMENT SECTION
José Antonio Torres Benito

Guillermo Carbonell Riera
Hugo Fernández Barrenechea
Eva Mª Asurmendi Medina
Mª José Hernández Sánchez
Jaume Roca Serra
Pedro Jesús Tojar Sánchez
Nieves Garcimartín García
​TITULAR ORCHESTRA OF THE TEATRO REAL
Orquesta Sinfónica de Madrid
​TITULAR CHORUS OF THE TEATRO REAL
Are you an Amigo del Teatro Real yet?
Live the Teatro Real experience beyond its wonderful productions and you will contribute to elevating our institutional project.