PATRONATO
PRESIDENCIA DE HONOR
SS.MM. los Reyes de España
PRESIDENTE
Gregorio Marañón y Bertrán de Lis
VOCALES NATOS
José Manuel Rodríguez Uribes 
Ministro de Cultura y Deporte
Isabel Díaz Ayuso 
Presidenta de la Comunidad de Madrid
José Luis Martínez-Almeida Navasqüés 
Alcalde de Madrid
Marta Rivera de la Cruz 
Consejera de Cultura y Turismo de la Comunidad de Madrid
Javier García Fernández
Secretario General de Cultura del Ministerio de Cultura y Deporte
Andrea Gavela Llopis
Subsecretaria de Cultura y Deporte
Amaya de Miguel Toral 
Directora General del INAEM
Gonzalo Cabrera Martín
Director general de Promoción Cultural de la Comunidad de Madrid
VOCALES
Luis Abril Pérez
José María Álvarez-Pallete López
Ignacio Astarloa Huarte-Mendicoa
Adolfo Autric Amarillo de Sancho
José Bogas Gálvez
Antonio Brufau Niubó
Demetrio Carceller Arce
Rodrigo Echenique Gordillo
Isidro Fainé Casas
Javier Gomá Lanzón
María José Gualda Romero
Francisco Ivorra Miralles
Andrea Levy Soler
Jaime Montalvo Correa
Eduardo Navarro de Carvalho
Enrique Ossorio Crespo
Florentino Pérez Rodríguez
Rafael Pardo Avellaneda
Helena Revoredo Delvecchio
Ignacio Rodulfo Hazen
Matías Rodríguez Inciarte
Jerónimo Saavedra Acevedo
Elena Salgado Méndez
Jaime Miguel de los Santos González
Mario Vargas Llosa
PATRONOS DE HONOR
Esperanza Aguirre Gil de Biedma
Alberto Ruíz-Gallardón Jiménez
DIRECTOR GENERAL
Ignacio García-Belenguer Laita
SECRETARIO
Bernat Vidal Arbona
VICESECRETARIOS
Carmen Acedo Grande
Antonio Garde Herce
DIRECTOR ARTÍSTICO
Joan Matabosch Grifoll
COMISIÓN EJECUTIVA
PRESIDENTE
Gregorio Marañón y Bertrán de Lis
VOCALES NATOS
Marta Rivera de la Cruz
Amaya de Miguel Toral
VOCALES
Eduardo Navarro de Carvalho
Alfredo Sáenz Abad
DIRECTOR GENERAL
Ignacio García-Belenguer Laita
SECRETARIO
Bernat Vidal Arbona
VICESECRETARIOS
Carmen Acedo Grande
Antonio Garde Herce
DIRECTOR ARTÍSTICO
Joan Matabosch Grifoll
DIRECCIÓN GENERAL
DIRECTOR GENERAL
Ignacio García-Belenguer Laita
DIRECTOR GENERAL ADJUNTO Y DIRECTOR DE PATROCINIO
Borja Ezcurra Vacas
SECRETARÍA GENERAL
SECRETARIO GENERAL
Bernat Vidal Arbona
 
DIRECCIÓN ARTÍSTICA
DIRECTOR ARTÍSTICO
Joan Matabosch Grifoll
DIRECTOR DE COORDINACIÓN ARTÍSTICA
Konstantin Petrowsky
DIRECTOR MUSICAL
Ivor Bolton
DIRECTOR PRINCIPAL INVITADO
Pablo Heras-Casado
DIRECTOR PRINCIPAL INVITADO
Nicola Luisotti
DIRECTOR DEL CORO
Andrés Máspero
DIRECTOR TÉCNICO
Carlos Abolafia
DIRECTOR DE PRODUCCIÓN
Justin Way
CONSULTOR DE CASTING
Alessandro Di Gloria
MECENAZGO PRIVADO
DIRECTORA DE MECENAZGO PRIVADO
Marisa Vázquez-Shelly
RELACIONES INSTITUCIONALES Y ORGANIZACIÓN DE EVENTOS CORPORATIVOS
DIRECTORA DE RELACIONES INSTITUCIONALES Y ORGANIZACIÓN DE EVENTOS CORPORATIVOS
Marta Rollado Ruiz
COMUNICACIÓN Y RELACIONES INFORMATIVAS
DIRECTOR DE COMUNICACIÓN Y RELACIONES INFORMATIVAS
José María Noguerol Fernández
PUBLICIDAD, IDENTIDAD CORPORATIVA Y PROMOCIÓN DIGITAL
DIRECTORA DE PUBLICIDAD, IDENTIDAD CORPORATIVA Y PROMOCIÓN DIGITAL
Lourdes Sánchez-Ocaña Redondo
PUBLICACIONES, ACTIVIDADES PARALELAS Y FORMACIÓN
DIRECTORA DE PUBLICACIONES, ACTIVIDADES PARALELAS Y FORMACIÓN
Laura Furones 
PRODUCCIÓN Y DIFUSIÓN AUDIOVISUAL
DIRECTORA DE PRODUCCIÓN Y DIFUSIÓN AUDIOVISUAL
Natalia Camacho López
El Consejo Asesor es un órgano de asesoramiento de la Fundación y está compuesto por personalidades de reconocido prestigio en el ámbito cultural.
 
PRESIDENTE
Mario Vargas Llosa
MIEMBROS
Juan Barja de Quiroga Losada
Juan Manuel Bonet Planes
Manuel Borja-Villel
Teresa Catalán Sánchez
Hernán Cortés Moreno
Núria Espert
Miguel Falomir Faus
Iñaki Gabilondo Pujol
Ana Gallego Torres
María Dolores García Gómez, Lola de Ávila
Laura García-Lorca de los Ríos
Javier Gomá Lanzón
José Luis Gómez 
Manuel Gutiérrez Aragón
Montserrat Iglesias
Carmen Iglesias Cano
Arnoldo Liberman Stilman
Antonio Muñoz Molina
Fabián Panisello
Rafael Pardo Avellaneda
Mercedes Rico Carabias
Ana Santos Aramburo
Amelia Valcárcel
y Bernaldo de Quirós 
SECRETARIA
Laura Furones Fragoso
Directora de Publicaciones, Actividades Culturales y Formación
La Junta de protectores, presidida por D. Alfredo Sáenz, está formada por los máximos representantes de la alta dirección de las empresas más importantes de España.
Es un órgano que tiene como finalidad promover la participación de la sociedad civil en la buena marcha de la Fundación y se reúnen dos veces al año.Podrán acceder a ella los presidentes u otros miembros de la alta dirección de aquellas empresas que pertenezcan al grupo de Colaboradores, Patrocinadores o Mecenas.
PRESIDENTE
Alfredo Sáenz Abad
VICEPRESIDENTES
Claudio Aguirre Pemán
Presidente y Socio Fundador de Altamar Capital Partners
José Bogas 
Consejero Delegado de Endesa
Rodrigo Echenique
Presidente del Banco Santander España y del Banco Popular
Isidro Fainé Casas
Presidente de la Fundación Bancaria "La Caixa"
Juan Pedro Moreno Jubrías 
Presidente de Accenture
Eduardo Navarro
Director de Comunicación, Asuntos Corporativos, Marca y Sostenibilidad de Telefónica
Rafael Pardo Avellaneda
Director de la Fundación BBVA
VOCALES
Fernando Abril-Martorell
Presidente de Indra
Hilario Albarracín
Presidente de KPMG en España
Juan Alcaraz López
Consejero Delegado de Allfunds Bank
Julio Ariza Irigoyen
Presidente del Grupo Intereconomía
Alberto Artero
Director General de El Confidencial 
Álvaro Artiach-Vila San Juan 
Director General de Sisley España
Fernando Bergasa
Presidente Ejecutivo de Redexis Gas
Antonio Brufau Niubó
Presidente de Fundación Repsol
Candela Bustamante Hernández
Administradora Única del Grupo Index
Demetrio Carceller Arce
Presidente de Fundación Damm
Mauricio Casals Aldama
Presidente de La Razón
Alicia Catalán Heredero
Directora General de NOHO Comunicación
Juan Manuel Cendoya Méndez de Vigo
Vicepresidente de Santander España y Director General de Comunicación, Marketing Corporativo y Estudios del Banco Santander 
Umberto Cini 
Director General de Maserati Europa
Jesús Encinar
Fundador de Idealista
Ignacio Eyries García de Vinuesa
Director General de Caser
Jon Fernández de Barrena
Presidente y Consejero Delegado de Altadis
Antonio Fernández-Galiano Campos
Presidente Ejecutivo de Unidad Editorial
Luis Furnells Abaunz
Presidente de Grupo Oesía
Miguel Ángel Furones Ferre
Presidente de Honor de Publicis Communications
Luis Gallego Martín
Presidente de IBERIA
Celestino García
Vicepresidente Corporativo de Samsung Electronics S.A.U.
Antonio García Ferrer
Vicepresidente Ejecutivo de Fundación ACS
Jordi García Tabernero
Director General de Comunicación y Relaciones Institucionales de Naturgy
Jesús Huerta 
Presidente de Loterías y Apuestas del Estado
Philippe Huertas
Director General de Breguet para España
Enrique V. Iglesias
Francisco Ivorra
Presidente de Asisa
Enrique Jiménez Figueroa
Director General de Philip Morris ES&PT
Tony Jin Yong
CEO de Huawei España
José Joly Martínez de Salazar
Presidente de Grupo Joly
Federico Linares
Presidente de EY España
Juan José Litrán Melul
Director de la Fundación Coca-Cola
Antonio Llardén Carratalá
Presidente de Enagás
VOCALES
Eduardo López-Puertas Bitaubé
Director General de Ifema
Sergi Loughney
Director de Reputación Corporativa y Comunicación de Abertis
José Pablo López Sánchez
Director General de Radio Televisión Madrid
Soledad Luca de Tena
Vicepresidenta de ABC
Maurici Lucena
Presidente y Consejero Delegado de AENA
Ignacio Madridejos 
Consejero Delegado de Ferrovial
Javier Martí Corral
Presidente de Fundación Excelentia
Asís Martín de Cabiedes
Presidente de Europa Press
Rosa María Mateo
Administradora Única de la Corporación RTVE
Iñigo Meirás Amusco
CEO del Grupo Logista 
Antonio Miguel Méndez Pozo
Presidente de Grupo de Comunicación Promecal
Francisco Javier Moll de Miguel
Presidente de Prensa Ibérica
Jaime Montalvo
Vicepresidente de la Mutua Madrileña
Xabier Olazabal
Presidente de Publicis Communications
Remedios Orrantia Pérez
Presidenta de la Fundación Vodafone España
Tom Osborne
Director General de Japan Tobacco International Iberia
Javier Pascual del Olmo
Presidente del Consejo de Condé Nast España
Eduardo Pastor Fernández
Presidente de Cofares
Pedro Pérez-Llorca Zamora
Socio Director de Pérez-Llorca
Ignacio Polanco Moreno
Presidente de Honor de PRISA
Antonio Pulido
Presidente de Cajasol
François Rameau
Senior Country Officer Iberia Crédit Agricole
Pedro J. Ramírez Codina
Presidente de El Español
Paloma Real
Directora General de MasterCard España
Miguel Riaño Pombo
Socio Director de Herbert Smith Freehills Spain
Narcís Rebollo Melció
Presidente de Universal Music
Andrés Rodríguez
Presidente de Spainmedia
Matías Rodríguez Inciarte
Francisco Ruiz Antón
Director de Políticas y Asuntos Públicos de Google España
Fernando Ruiz Ruiz
Presidente de Deloitte España
José Mª Sánchez Santa Cecilia
Director General Prodware Spain & VP Prodware Grupo
Martín Sellés Fort
Presidente y Consejero Delegado de Janssen-Cilag
Juan Manuel Serrano
Presidente de la Sociedad Estatal de Correos y Telégrafos
Alfonso Serrano-Suñer de Hoyos
Presidente de Management Solutions
Ángel Simón Grimaldos
Presidente de Suez España
Manuel Terroba
Presidente Ejecutivo del Grupo BMW España y Portugal
Juan Carlos Ureta
Presidente de Renta 4 Banco
Paolo Vasile
Consejero Delegado de Mediaset España
SECRETARIO
Borja Ezcurra Vacas
Adjunto al Director General y Director de Patrocinio y Mecenazgo
Con fecha 5 de marzo de 2014 se constituye el Círculo Diplomático del Teatro Real, una iniciativa impulsada por la institución para contribuir al fortalecimiento y consolidación de la proyección internacional del Teatro Real.
Actualmente está compuesto por los embajadores acreditados en España de Rusia, Arabia Saudí, México, Reino Unido, Alemania, Bélgica, Portugal, China, Francia, Colombia, Italia, Japón y Canadá.
El Círculo Diplomático del Teatro Real tiene por objeto estrechar lazos con los países representados por sus embajadores y propiciar así el necesario intercambio cultural que contribuya a consolidar la imagen del Teatro Real y de su proyecto artístico fuera de nuestras fronteras.
MIEMBROS
Excmo. Sr. Yuri P. Korchagin
Embajador de Rusia
S.A. el Ppe. Mansour Bin Khalid Alfarhan al Saud
Embajador de Arabia Saudí
Excma. Sra. Dª Roberta Lajous Vargas
Embajadora de México
Excmo. Sr. D. Simon John Manley
Embajador del Reino Unido
Excmo. Sr. D. Lyu Fan
Embajador de China
Excmo. Sr. Yves Saint-Geours
Embajador de Francia
Excmo. Sr. D. Stefano Sannino
Embajador de Italia
Excmo. Sr. D. Masashi Mizukami
Embajador de Japón
Excmo. Sr. D. Matthew Levin
Embajador de Canadá
Excmo. Sr. D. Marc Calcoen
Embajador de Bélgica 
Excmo. Sr. D. Wolfgang Hermann Dold
Embajador de Alemania
Excma. Sra. Carolina Barco
Embajadora de Colombia
SECRETARIA
Marisa Vázquez-Shelly
Directora de Mecenazgo Privado
El Consejo Internacional es un órgano de apoyo integrado en la estructura del Teatro Real con la finalidad de promover la participación de la sociedad civil de ámbito internacional en el Teatro Real y la difusión de su proyecto artístico. Cuenta entre sus miembros con destacadas personalidades que comparten su filantropía y afición por la ópera y desean prestar su apoyo personal al buen funcionamiento del Teatro Real.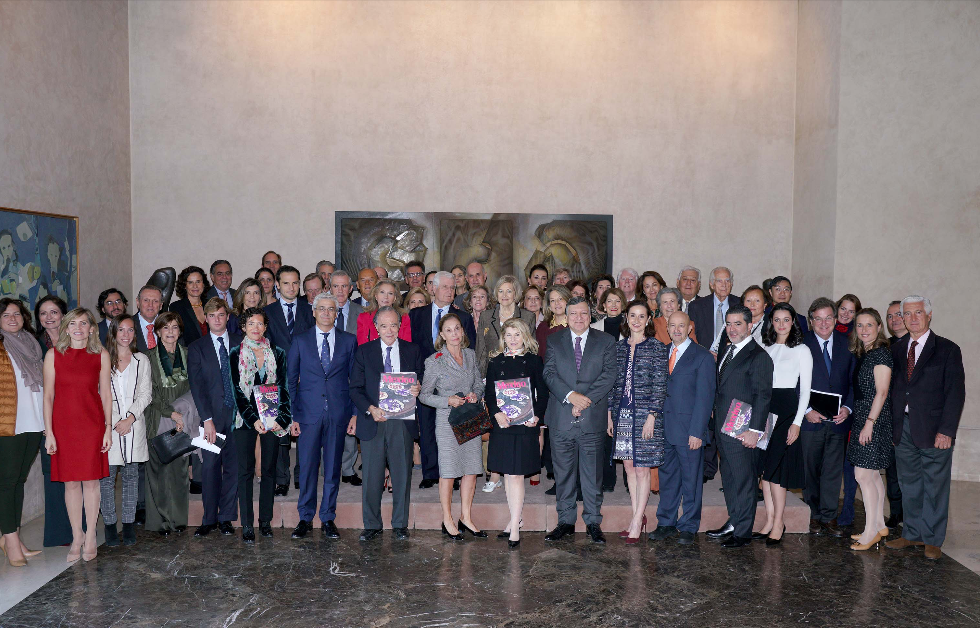 PRESIDENTE
Helena Revoredo de Gut
VICEPRESIDENTE
Fernando D'Ornellas
MIEMBROS
Claudio Aguirre Pemán
Gonzalo Aguirre González
Marta Álvarez Guil
Carlos Fitz-James Stuart, duque de Alba
Marcos Arbaitman
Pedro Argüelles Salaverría
Jaime Argüelles Armada
Sonia Barroso y Sofía Palazuelo Barroso, duquesa de Huéscar
Alicia Koplowitz, marquesa de Bellavista
Karolina Blaberg
José Bogas
Jerónimo y Stefanie Bremer Villaseñor
Teresa A.L. Bulgheroni
Carlos Augusto y Monica Dammert
Valentín Díez Morodo
José Manuel Durão Barroso
Claudio Engel
José Manuel Entrecanales Domecq y María Carrión López de la Garma
José Antonio y Beatrice Esteve
Jon Fernández de Barrena
Anne Fitzpatrick 
Jaime y Rakel Gilinski
José Graña
Pau Guardans i Cambó y Pilar García-Nieto
Bárbara Gut Revoredo
Chantal Gut Revoredo
Christian Gut Revoredo
Germán Gut Revoredo
Bruce Horten y Aaron Lieber
Rodrigo Lebois Mateos y Almudena Ocejo Aja
Harry Lee y Clive Potter
Gerard López
Pedro y Mercedes Madero
Marta Marañón Medina
Cristina Marañón Weissenberg
Pilar Solís-Beaumont, marquesa de Marañón
Xandra Falcó Girod, marquesa de Mirabel
y Jaime Carvajal Hoyos, marqués de Almodóvar del Río
Julia Oetker
Paloma O'Shea
Patricia O'Shea
Juan Antonio Pérez Simón
Alejandro F. Reynal y Silke Bayer de Reynal
David Rockefeller Jr. y Susan Rockefeller
Eileen Rosenau
Álvaro Saieh, Ana de Saieh y Catalina Saieh
Isabel Sánchez-Bella Solís
Carlos Salinas y Ana Paula Gerard
Luis Carlos Sarmiento, Fanny Gutiérrez y Sonia Sarmiento
Arturo Sarmiento y María Guerrero
Paul Saurel
Antonio del Valle
Ulrike Winkler
Chiona Xanthopoulou-Schwarz
SECRETARIA
Marisa Vázquez-Shelly
Directora de Mecenazgo Privado
La Junta de Amigos formada por representantes del ámbito empresarial, cultural y social, su finalidad es fomentar el apoyo y participación de la sociedad civil al crecimiento y desarrollo de las actividades de la institución y de la vida cultural española.  Los miembros de la Junta participan activamente en un programa de ventajas diseñado a medida por el Teatro Real como reconocimiento a sus donaciones.
PRESIDENTE
Alfonso Cortina de Alcocer
VICEPRESIDENTE
Jesús María Caínzos Fernández
MIEMBROS
Claudio Aguirre Pemán    
Blanca Suelves Figueroa, Duquesa de Alburquerque 
Modesto Álvarez Otero 
Rafael Ansón Oliart 
José Ballesteros
Matías Cortés 
​Juan Díaz-Laviada
Jesús Encinar
Isabel Estapé Tous 
Ignacio Faus Pérez
Fernando Fernández Tapias 
Elena Ochoa, Lady Foster 
Carlos Falcó, Marqués de Griñón
María Guerrero Sanz 
MIEMBROS
Pilar Solís-Beaumont, marquesa de Marañón
Ernesto Mata L​ópez
Teresa Mazuelas Pérez-Cecilia 
Julia Oetker 
Luisa Orlando Olaso
Paloma O'Shea 
Paloma del Portillo Yravedra 
Helena Revoredo de Gut 
Alfredo Sáenz Abad
José Manuel Serrano-Alberca
Lilly Scarpetta
Eugenia Silva
SECRETARIA
Marisa Vázquez-Shelly
Directora de Mecenazgo Privado
DIRECTOR GENERAL
Ignacio García-Belenguer Laita
DIRECCIÓN GENERAL
Borja Ezcurra Vacas
Carolina Gamo Lara
Isabel Sánchez Marín
SECRETARÍA GENERAL
Bernat Vidal Arbona

Manuel Llerandi Carrasco
Javier Díaz- Meco Aragonés
DIRECCIÓN ARTÍSTICA
Joan Matabosch Grifoll

Konstantin Petrowsky
Marcia Medina Pereiro
DEPARTAMENTO DE PUBLICACIONES, ACTIVIDADES CULTURALES Y FORMACIÓN
Laura Furones Fragoso

Raúl Amor Álvarez
Miguel Ángel de las Heras Cristóbal
Marta Villegas Fontela
DIRECCIÓN DE PRODUCCIÓN
Justin Anthony Way

Nuria Moreno Espert
Fernando Palacios Jorge
María Helena Poveda Valiente
Ana Ramírez Sanz
Daniel López Calvo
Fernando Mellado
UNIDAD PEDAGÓGICA
DIRECCIÓN MUSICAL
Ivor Bolton

Pablo Heras-Casado

Nicola Luisotti

Andrés Máspero

Patricia Barton

Riccardo Bini
Mack Sawyer
Beatriz Ausín Zorrilla
Elena Pinillos Laffon
DIRECCIÓN DE PATROCINIO
Borja Ezcurra Vacas

Marisa Vázquez-Shelly
Lucía Los Arcos Magdalena
Ana Isabel Uceta Fernández
Belén Giménez Martín
Cristina Jerez Flores
Begoña Pérez Cerdeño
María Gema Valverde Medina
Mónica Tarré Pedreira
Rodrigo Arribas Fontela
DIRECCIÓN DE PUBLICIDAD, IDENTIDAD CORPORATIVA Y PROMOCIÓN DIGITAL
Lourdes Sánchez-Ocaña Redondo

Manuel García García
Maria Reguilón Gallego
DEPARTAMENTO DE COMUNICACIÓN Y RELACIONES INFORMATIVAS
José María Nogerol Fernández

Mª Graça Prata Ramos
Inés Tostón Cristóbal
DEPARTAMENTO DE RELACIONES INSTITUCIONALES Y ORGANIZACIÓN DE EVENTOS
Marta Rollado Ruiz

Miguel Ángel Casado Ledesma
Fernando Nicolás Cámara
Ana Serrano Alcoba
Gemma Barreales Barredo
María Martínez Butragueño
​DEPARTAMENTO DE SISTEMAS INFORMÁTICOS
Fernando Martínez Cortés

José Antonio Calderón Santos
Javier Gutiérrez San Segundo
DEPARTAMENTO DE RECURSOS HUMANOS
Chus Barriga de Arriba

Victoria Moreno Milán
Carmen García-Ochoa Blanco
Laudelina Martín Álvarez
Elena Borderías López de Sebastián    
DEPARTAMENTO DE SERVICIOS ECONÓMICOS Y FINANCIEROS
Susana Rubio de la Cruz

Paloma Sarrión Lozano
Begoña Rincón Sopuertas
Nidia Ruiz Escudero
Leticia Recamal Arribas
DEPARTAMENTO DE INFRAESTRUCTURAS
Beatriz Minchán Esteban

Francisco Luis López Campillo
Mariano Zapardiel López
Roberto Úbeda Montoya
DEPARTAMENTO DE MARKETING Y VENTAS
Francisco J. Ramos Zaldívar

Raquel Bautista Tenorio
Esther Vals Sacristán
DIRECCIÓN TÉCNICA
Carlos Abolafia Diaz

María Pérez-Bermúdez Rodríguez
Celeste Carrasco Moreno
Guadalupe Holguera Durán
Fernando Martínez Herranz
Raúl Romero Minguez
Jesús Rueda Ludeña
Leticia Frutos Amián
María Paz Funes Jiménez
UNIDAD DE PROYECTOS
Eva María Pérez González

María Isabel de la Cruz Sánchez
Esther Garrido Plaza
PRODUCCIÓN AUDIOVISUAL
Natalia Camacho López

David Pérez Gancedo
Francisco Javier Huertas Rodríguez
Juan José Sánchez Hernando
DIRECCIÓN DE ESCENARIO
José Luis Jiménez Fernández

Óscar Muñoz Maroto

Antonio Pozón Hernández

Alberto Castro Medina

Francisco Gallardo Izquierdo
Manuel Ángel García Marcos
José Luis Jiménez Moreno
José Madrid Ruiz
José Luis Manrique Alegre
SECCIÓN DE AUDIOVISUALES
Fernando Valiente Uceda

Juan Almenara Rodríguez
José Manuel Bernabeu Borrás
Jesús Romero de Ávila Díaz-Cano
Miguel A. San Martín Hermosilla
Pablo López Catalán
Rosario del Boz Herrero
Ignacio García Recio
Pedro Antonio López Córdoba
Miriam López de Haro Sánchez
Francisco López Florin
Mª Victoria Sola Vela
Miguel Ángel Vallejo Cívicos
SECCIÓN DE LUMINOTECNIA
Ángel Palomino Torres

Jesús Ángel García Miguel
Mª del Carmen Salazar Corral
Gabriel Torres Martín
Rafael Verdura García
Vidal Jiménez Talavera
Ana Isabel Miguel Cambón
Julián Real García
Luis Villalba Gutiérrez
Fermín Acevedo Prieto
Alberto Álvarez Cruz
Federico Arribas Fontela
Luis Benayas Martín
Diego José Berbel Hernando
Ramón Cabello Jurado
José Ignacio García Miguel
Jaqui Gómez Navarro
Pedro Mario Horna Martín de la Plaza
José María Martín Pedraza
Fernando Martínez Hernánz
Ana Mesonero Barbero
Juan Antonio Pérez Oliveira
Pablo Requejo Vasco
José Luis Rodríguez Puente
Juan Manuel Ruíz Ariza
Antonio Sánchez Correal
Alfonso Segundo Carrasco
SECCIÓN DE MAQUINARIA
Antonio Castro Medina

Luis Jiménez Gómez
José María López León
David Reneses Mínguez
Pablo Lizardo Sánchez González
Francisco Hernández Serrano
Justo Manuel Abad Ros
Eugenio Donaire López-Cano
Santiago Jiménez Martínez
Emilio López de la Serna
Juan Carlos Moldes Vallecas
Pedro Muñoz Blázquez
Adolfo Ruano Díaz
Sergio Santos Meras
Francisco Javier Arévalo Nieto
Amalio Atienza Gallego
Juan Bautista Minaya
José Ramón Berzosa Feito
Juan Pedro Berzosa Feito
José Luis Blázquez Martín 
Javier Calvo Tenorio
Bienvenido Ferrero Martín
Juan Carlos García Bodalo
Higinio Gómez Carrera
Ramón Gómez González
José Manuel González Pérez
Antonio Vicente Jiménez Más
José Luis López Izquierdo
José Luis López Laserna
Antolín Martínez Herrero
Raúl Moreno Rodríguez
Francisco José Muñoz Campos
Ángel Muñoz González
David Muñoz Puebla
Miguel Ángel Olmedo Jiménez
Iván Francisco Ortega López
Jesús Parra Moreno
Andrés Pérez García
Carlos Gustavo Pérez Paraíso
Gema Rodríguez Vacas
José David Rodríguez Zoído
Cándido Saavedra Cortina
Antonio J. Sánchez González
José Reyes Sánchez Romero
Mario Torres Alido
Jesús Zapardiel Elola
Julián Zapardiel Elola
SECCIÓN DE MECÁNICA ESCÉNICA
Jesús Garnelo Álvarez

Sara Amich Mato
Mª Dolores Andreu Cueto
Javier Díaz-Cardiel Álvarez
Luis Vicente Estrada Manjabacas
Miguel Ruiz Collis
José Luis Estevez Recio
Carlos José Fernández Seligrat
José A. Fernández-Puebla Parra
Rafael González Carrasco
Gorka Herrero Arechavala
Esteban Martínez Tomico
Pedro Melendo Pérez de Muñoz
Nicolás Montañez Carrasco
Alejandro Pannocchia Alonso
Reyes Sánchez del Viejo
Antonio Segovia Martín-Rubio
Germán Alameda Conde
Juan José Fernández García
Jesús Ligero Bravo
Luis María Simón Sanz
Eugenio Leganés Fernández
SECCIÓN DE SASTRERÍA Y CARACTERIZACIÓN
Ovidio Ceñera González

Miriam de Antonio Paniagua
Mª Flora Domínguez Regueiro
Carlos Luis Palomo Aparici
Mª Josefa Blanco Acosta
Mª José Cepeda López
Mª Rosario Baena Alonso
Margarita Esparza Fernández
Benjamín Fernández Gómez-Chacón
Mª del Carmen Gallego Moreno
Pilar Herce Lambarri
Dolores Heredia Sánchez
Pedro Antonio Herrera de la Muela
Cristina Novoa Sánchez
Ana María Pérez Asenjo
Mª Dolores Rodríguez Hernández
Teresa Rubio García
Sacramento Sánchez González
Mª Soledad Sánchez López
Araceli Valentín Barrera
Mª Carmen Villadoniga Costa
Suely-Amelia da Costa Ferreira
Rosa María Caballero García
Mª Elena García Urien
Mª Milagros Pascual de la Fuente
Mª Esther Dolera Gil
Pilar Álvarez Fernández
Eva Mª Arce Bueno
María Ángeles Arcelus Lasa
Francisco Barquinero González
Mª Teresa Bujeda Doñate
Rut Mª Lamana Simón
Mª Paloma Llorente Díaz
Guadalupe Montero Blanco
Mª del Mar Rioja Canales
Mª Ángeles Rivera Mauri
Alicia Ronquillo Mata
Marco Antonio Ropero Carballo
SECCIÓN DE UTILERÍA
Álvaro Aguado Zorrilla

Raquel Aladro Roldán
Vicente Bravo López
Juan de Ramón-Laca Menéndez
Carlos del Tronco Luaces
Daniel Martín de Lucas
David Arranz Castaño
Silvia Blázquez Cruz
Mª del Carmen Aladro Roldán
Arístides Cajide Ruíz
Antonio Calvo Tenorio
Pablo Gómez Cardenal
Antonio Herrero Duque
Mª del Carmen Mosquera Gallardo
José Daniel Nicolay Oses
Silvia Ortiz Navarro
María Otegui Gutiérrez
José Israel Pellus González
Mª Isabel Pérez Roldán
Jaime Pulido Sánchez
Alberto Romero de Ávila Díaz-Cano
Daniel Sánchez Rebollo
Juan Luis Sánchez Rebollo
Pablo Gómez Cardenal
SECCIÓN DE REGIDURÍA​
José Antonio Torres Benito

Guillermo Carbonell Riera
Hugo Fernández Barrenechea
Eva Mª Asurmendi Medina
Mª José Hernández Sánchez
Jaume Roca Serra
Pedro Jesús Tojar Sánchez
Nieves Garcimartín García
FOTÓGRAFO
​ORQUESTA TITULAR DEL TEATRO REAL
Orquesta Sinfónica de Madrid
​CORO TITULAR DEL TEATRO REAL
Aren't you Amigo del Teatro Real yet?
Live the Teatro Real experience beyond its wonderful productions and you will contribute to elevating our institution project.