Flamenco Real
Mía
Luisa Palicio
15 Nov, 19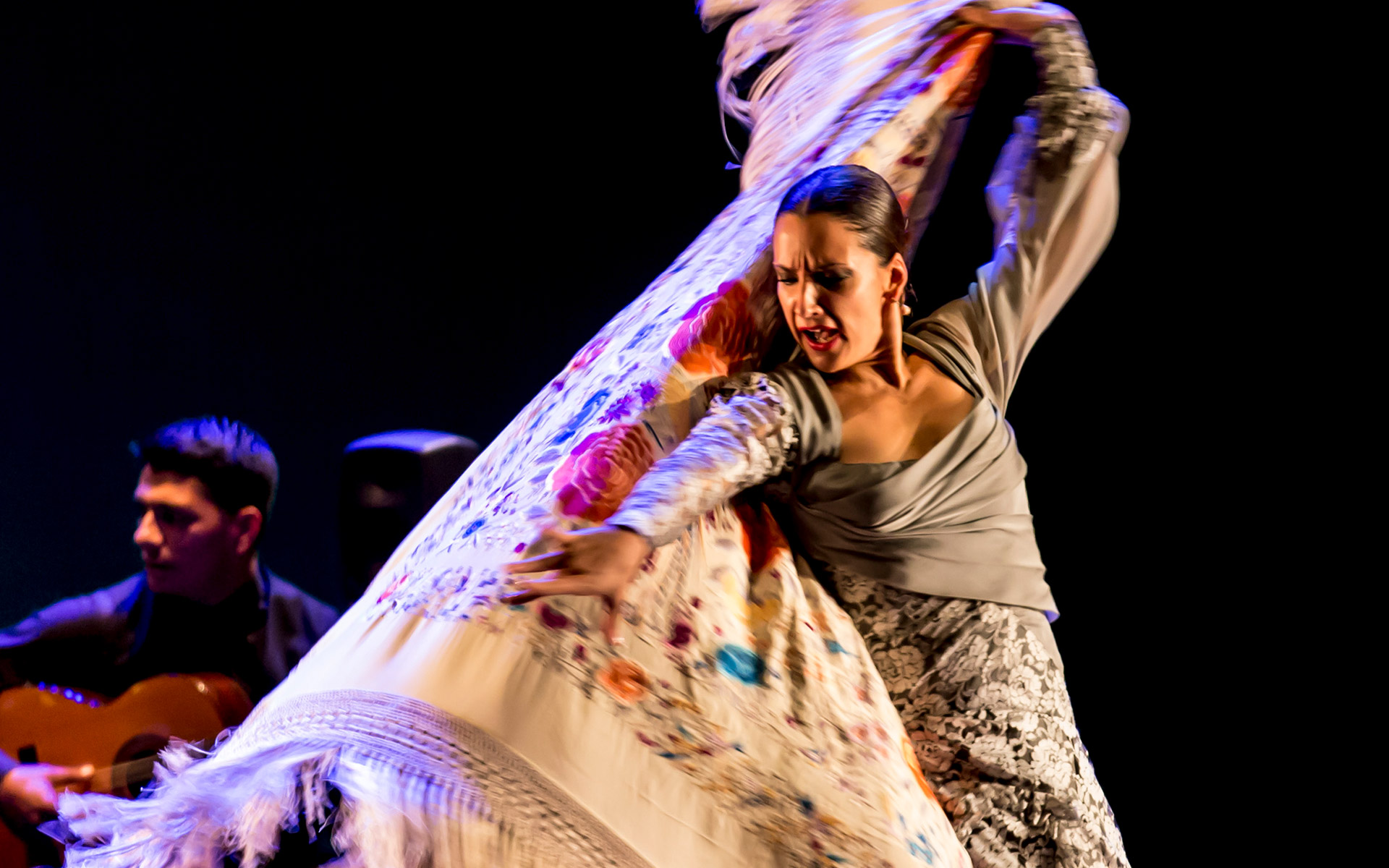 Mía es un recorrido por palos flamencos que abandera el estilo de esta bailaora malagueña, que lleva como estandarte la escuela de baile sevillana. Una muestra de baile muy personal en la que Luisa Palicio pasea por los bailes acompañada de los diferentes complementos que mantiene vivos con su estilo: mantón, abanico y bata de cola. Un espectáculo flamenco cargado de estética y feminidad.
"Fresca, sensual, pletórica. Cada día más grande, más mujer, más bailaora. Haciendo el espacio curvo por la gracia de sus caderas ondulantes, de sus hombros sensuales. La gracia del instante: la pose. El estatismo elevado a sus últimos extremos. Plenitud y austeridad en la puesta en escena. Barroca y al mismo tiempo obvia, porque nada queda en el tintero. Erótica, excesiva, almibarada, pero pulcra, clara, blanca, virgen."
ELENCO ARTÍSTICO:
Baile: Luisa Palicio
Cante: Manuel Romero y Ana Gómez
Guitarra: Jesús Rodríguez
---
* Este espectáculo incluye un vino de bienvenida y un Meet&Greet para conocer a los artistas.
Vino de bienvenida en Salón Arrieta - 20:30h
Comienzo del espectáculo - 21:00h
---
PRECIOS DE ENTRADAS POR CADA ESPECTÁCULO
Zona Premium (Mesas de 4 y 6 plazas) - 75,00€/asiento
Zona A (Mesas altas de 4 plazas) - 68,00€/asiento
Zona B* (Mesas altas de 4 plazas) - 45,00€/asiento
Venta de entradas en teatroreal.es, taquillas y 902 24 48 48.
*Menor visibilidad
PRECIOS ESPECIALES POR LA COMPRA DE MESAS COMPLETAS
ZONA PREMIUM
Mesa 6 personas - 405,00€ (10% dto. incluido)
Mesa 4 personas - 279,00€ (7% dto. incluido)
ZONA A
Mesa 4 personas - 258,40€ (5% dto. incluido)
ZONA B*
Mesa 4 personas - 171,00€ (5% dto. incluido)
Descuentos especiales disponibles solo en taquillas y en el 902 24 48 48
*Menor visibilidad
AMIGOS DEL REAL
5% de descuento por compra de entradas para todos los espectáculos.
No hay restricción de número de entradas adquiridas por persona.
Descuento disponible en teatroreal.es, taquillas y 902 24 48 48
---
Producido por:

---

Performances
Date/hour
Space
Cast
Subscription ticket
Are you an Amigo del Teatro Real yet?
Live the Teatro Real experience beyond its wonderful productions and you will contribute to elevating our institutional project.