Flamenco Real
Una mirada lenta
Ana Morales
07 Feb, 20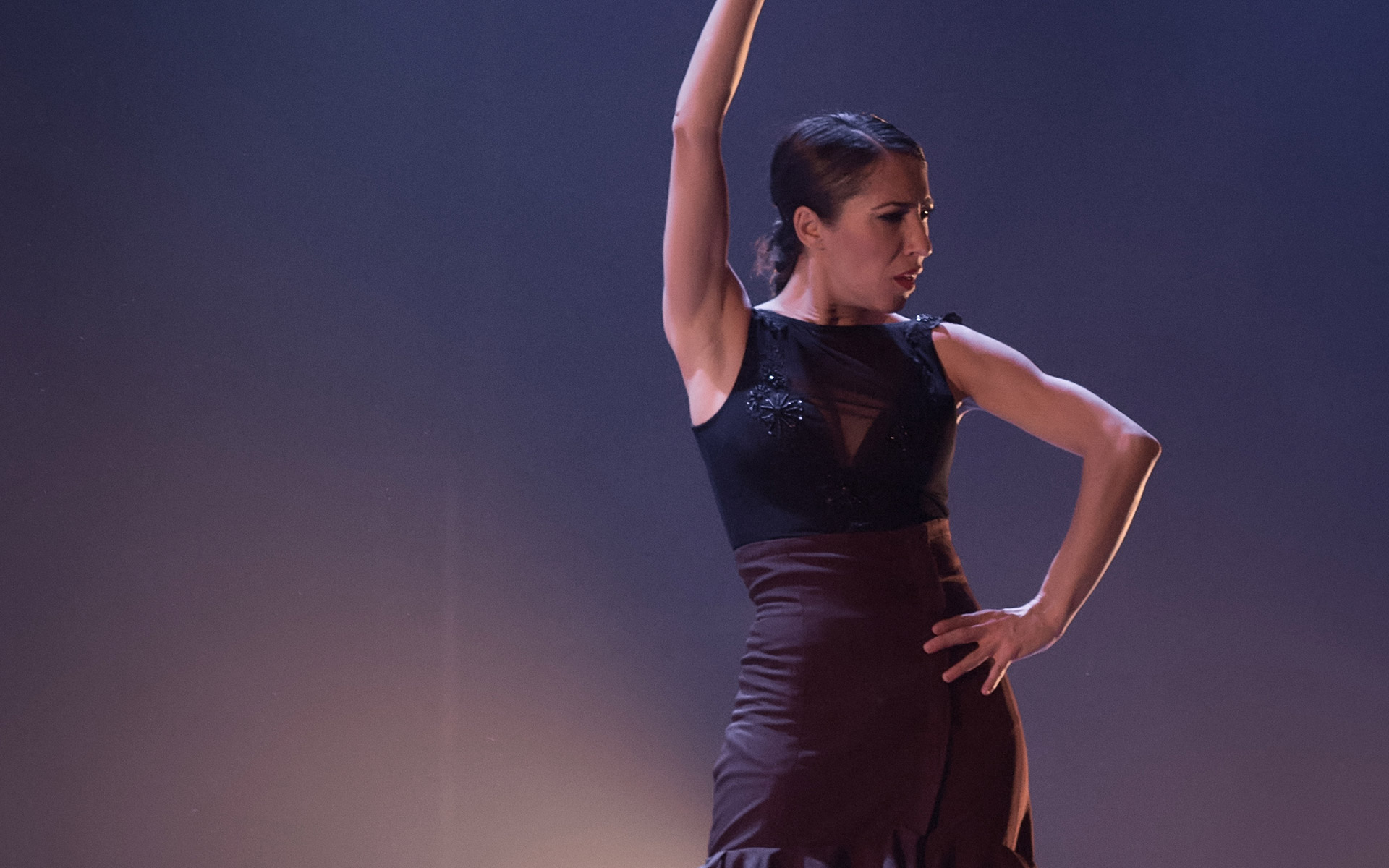 No necesitas saber de flamenco para ser cautivado por la barcelonesa Ana Morales. Ana captura al público desde los primeros segundos. Una danza interiorizada que late debajo de la piel, un respeto a las figuras clásicas con una escritura singular contemporánea, presencia en el escenario con una postura orgullosa y gestos expresivos.
"Ana Morales suele mostrar un baile sólidamente construido, de técnica abrumadora (maravillosa de pies), equilibrado y poderoso, con un gran dominio del espacio, y unas coreografías variadas, muy musicales. No detectamos en su arte ni un recurso fácil, ni una sola concesión a la galería. Baile concentrado, sobrio, fibroso, casi castrense." – SO-LA-NA.
ELENCO ARTÍSTICO
Baile - Ana Morales
Guitarra - José Luis Medina
Cante - Miguel Ortega
Percusión - Daniel Suárez
---
* Este espectáculo incluye un vino de bienvenida y un Meet&Greet para conocer a los artistas.
Vino de bienvenida en Salón Arrieta - 20:30h
Comienzo del espectáculo - 21:00h
---
PRECIOS DE ENTRADAS PARA CADA ESPECTÁCULO
Zona Premium (Mesas de 4 y 6 plazas) - 75,00€/asiento
Zona A (Mesas altas de 4 plazas) - 68,00€/asiento
Zona B* (Mesas altas de 4 plazas) - 45,00€/asiento
Venta de entradas en teatroreal.es, taquillas y 902 24 48 48.
*Menor visibilidad
PRECIOS ESPECIALES POR LA COMPRA DE MESAS COMPLETAS
ZONA PREMIUM
Mesa 6 personas - 405,00€ (10% dto. incluido)
Mesa 4 personas - 279,00€ (7% dto. incluido)
ZONA A
Mesa 4 personas - 258,40€ (5% dto. incluido)
ZONA B*
Mesa 4 personas - 171,00€ (5% dto. incluido)
Descuentos especiales disponibles solo en taquillas y en el 902 24 48 48
*Menor visibilidad
AMIGOS DEL REAL
5% de descuento por compra de entradas para todos los espectáculos.
No hay restricción de número de entradas adquiridas por persona.
Descuento disponible en teatroreal.es, taquillas y 902 24 48 48
---
Producido por:

---

Artistic information
Artistic team
Performances
Date/hour
Space
Cast
Subscription ticket
Are you an Amigo del Teatro Real yet?
Live the Teatro Real experience beyond its wonderful productions and you will contribute to elevating our institutional project.