Opera
The nose
Nos
Dmitri Shostakóvich
13 Mar, 23 - 30 Mar, 23
Musical Conductor: Mark Wigglesworth | Stage Director: Barrie Kosky | Principal Chorus and Orchestra of the Teatro Real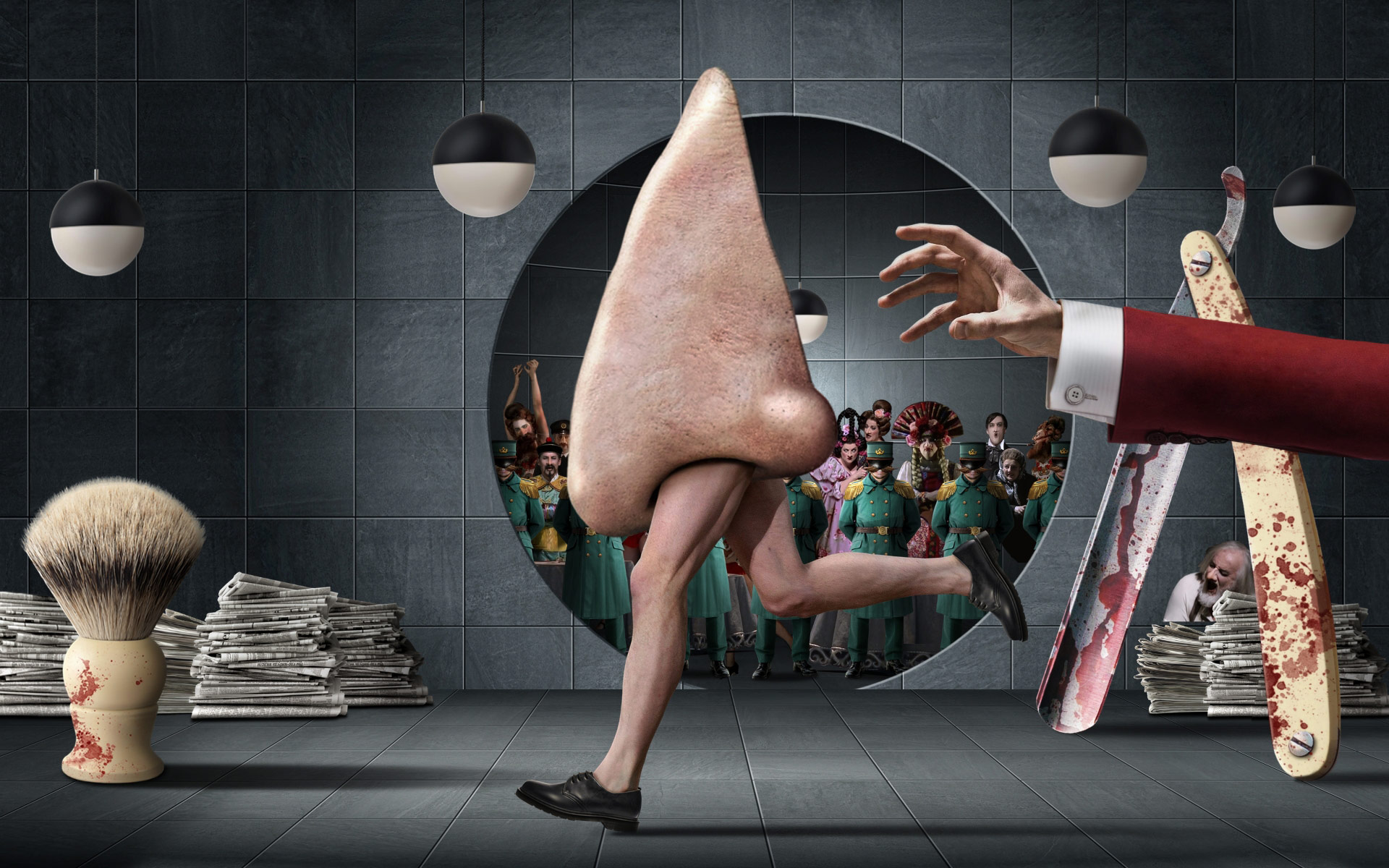 With a cast of 89 roles - spread among a no less gigantic of 33 singers – and a rhythmical action which is nearly cinematographic, The Nose is a huge challenge for any opera house because of its logistic complexities and an exhilarating "nightmare" for its Stage Director. Based on a story by Nikolai Gogol and premiered in Leningrad in 1930, the work was put out of circulation due to the attacks of the Russian Association of Proletarian Musicians. The opera was not seen on stage again until 1974, just a year before the composer's death. The sarcasm - bordering on Theatre of the Absurd – of its libretto and the " music without musical structure" score, influenced by the biomechanics of Meyerhold, sustain a spectacle which is as acid in content as it is wildly modern musically.
The debut in the Teatro Real of this cult opera arrives with the acclaimed and irreverent production of Australian Barrie Kosky - who staged the most recent Magic Flute at this theatre -, who has been a fan of this work since his student years. The staging communicates the grotesque mishaps of a grey and pompously bureaucrat who is the lead character.
---
Opera in three acts
Music by Dmitri Shostakóvich (1906-1975)
Libretto by Dmitri Shostakóvich, Yevgueni Zamiatin, Gueorgui Ionin and Aleksandr Preis, based on the homonymous by Nikolái Gógol
Premiere at the Maly Óperny Theater of Lenningrad, 18 January1930
Premiere at the Teatro Real
New production of the Teatro Real, in collaboration with the Royal Opera House, Komische Oper Berlin and Opera Australia
---
Artistic team
Musical Conductor | Mark Wigglesworth
Stage Director | Barrie Kosky
Stage and Lighting Designer | Klaus Grünberg
Costume Designer | Buki Shiff
Choreographer | Otto Pichler
Dramaturg | Ulrich Lenz
Chorus Director | Andrés Máspero
---
Cast
Platón Kuzmitch Kavalyov | Martin Winkler
Iván Yákovlevich / Newspapper office manager / Doctor / Horzev-mirza / Taxi Driver | Alexander Teliga
Praskovaya Ossipovna / A bread seller | Ania Jeruc
Police inspector / Eunuco Iván / Police man / Sir / Eunuco / Deputy Chief of Police | Vasily Efimov
The Nose / Eunuch | Anton Rositskiy

Lackey / Iván Ivánovich / Student | Stephan Astakhov
Pelageya Grigorievna Podtóchina / Respectable Lady | Margarita Nekrasova
Yarishkin / Eunuch / Angry man at the Cathedral | Dmitry Ivanchey
Podtóchina's daughter / Lady at the Cathedral | Iwona Sobotka
The old countess | Agnes Zwierko
Host | Anne Igartiburu
Principal Chorus and Orchestra of the Teatro Real
Releases
Collaborating and Benefactor Friend
Performances
Date/hour
Space
Cast
Subscription ticket
Parallel activities
Enfoques
Ponemos el foco sobre la producción de La Nariz con algunos de sus protagonistas.
Actividades pedagógicas y conciertos
What's On
Biblioteca Musical Victor Espinos (Conde Duque)
Celebrando a Shostakóvich. Ciclo de actividades en colaboración con la Escuela Municipal de Música y Danza María Dolores Pradera.
• Shostakóvich y el cine
• Shostakóvich y el jazz
• Shostakóvich y la danza
Marzo
Coloquio
Coloquio sobre la relación entre música, ópera y poder
Recorrido guiado
What's On
Thyssen-Bornemisza Museum
¿Dónde está mi nariz?
Recorrido guiado por la colección centrado en representaciones del rostro humano a comienzos del siglo XX
Marzo
Encuentro
What's On
Residencia de Estudiantes
Shostakovich y la censura soviética
What's On
Fundación Juan March
Shostakovich y la censura soviética
Fundación Juan March
Ciclo de conciertos
15, 22 y 29 de marzo de 2023
Are you an Amigo del Teatro Real yet?
Live the Teatro Real experience beyond its wonderful productions and you will contribute to elevating our institutional project.